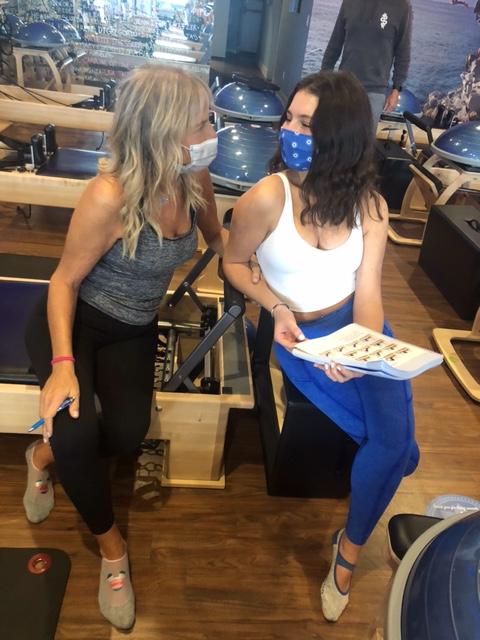 ---
Club Pilates Oceanside is home to its youngest Teacher Trainee currently going through the program (she's 17), but perhaps even just as interesting, her Mom is taking the Club Pilates Teacher Training program with her! It's a bonding experience for them as she prepares to go to College next year. Sammi and Debbie share some responses about their experiences below:


Can you share what started your love/passion of Pilates?
Sammi: When I was 13, I had a 7-hour spinal surgery. This caused me to halt all of my sports seasons, and I was in need of another form of movement. Enter Pilates, and I've never looked back. Everything I do in life I find some aspect of Pilates in, whether it be breathing or certain movements to keep my core aligned.
Debbie: I am 57 years old, and have maintained a drastic 70-pound weight loss for the last 27 years. I was always a moderate exerciser. I walked, rode my bike on a regular basis. I was getting bored and it was getting more difficult to maintain the weight loss as I got older. Friends of mine swore by Pilates and I always said I would try but always had an excuse. When I turned 50 I decided to give it a try with some Private lessons with Pam, one of the owners/instructors at Club Pilates Oceanside. I was hooked. I loved it and really started to see the difference in my body at about the 3-month mark. It's a game-changer.


How did you decide to take that love to the next level and go through teacher training together?

Sammi: I decided to take it to the next level and become a Pilates teacher trainee because I want to be able to spread the same happiness that my Pilates teachers at Club Pilates Oceanside brought to me.
Debbie: Sammi, my daughter was a big influence in this decision. At first she wanted to do it by herself and one day we just looked at each other and said why not? So here I am.


Is there anything you learned about your mother/daughter that you didn't know about her before going through Teacher Training together?

Sammi: I learned how good of a public speaker she is and where I got my confidence from!
Debbie: I am so very proud of Sammi. It did not surprise me, but it was so refreshing to see how she conducted herself on a new journey being the youngest one in the group at 17. She is eloquent, bright and can definitely hold her own.


What did you learn about yourself going through the TT program?

Sammi: I learned that every single body is different and everyone has different needs/modifications. It's incredibly interesting to see how different people move from each other but can unite through one type of exercise!
Debbie: I learned that I still have it! I can do anything I put my mind to. I was apprehensive about this because of the content and hours but here I am rocking it!


If you plan to teach in the future, what are you most excited to share about Pilates with future clients/members?

Sammi: I'm most excited to share the flows I've been dreaming up in the studio when I start teaching!
Debbie: I think that I would like to share that It's never too late. There is something in Pilates for everyone. It can be as intense or as modified as you make it.


What's something you would want others to know about Pilates?

Sammi: I want other people to know how beautiful Pilates is and how diverse and mind-clearing it is!
Debbie: Pilates is life-changing. Not only physically, but mentally. It's challenging yet doable. It's a good feeling all around! It also gave my daughter a wonderful path after going through a full spinal fusion. Pilates allows her to express herself through body and movement in a way we never thought she could!


How might your life be different if you never tried Pilates?

Sammi: I would have never found a way to move my body, clear my head and know that I'm taking care of my spine all at once!
Debbie: Aside from meeting so many new people, Pilates, especially Club Pilates Oceanside, continues to keep me motivated and engaged in a physical and mental way that is very rare on a daily basis. I love it!


Sammi - what are your thoughts on being one of the youngest to go through Club Pilates Teacher Training?

Sammi: I am incredibly proud of myself for being one of the youngest people to go through the teacher training program. I am completely aware of how ahead I am of most people my age. I've learned to romanticize my life and that will shine through in my classes and beyond!