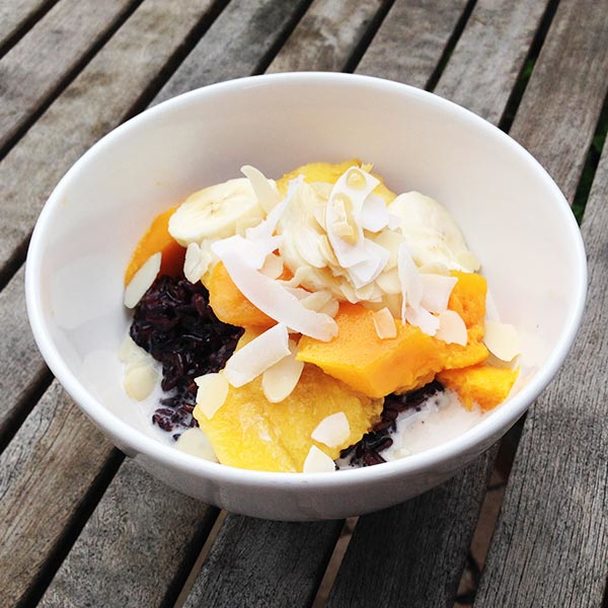 ---
This is a delicious gluten and dairy free twist on rice pudding for any occasion! It's perfect for breakfast or an afternoon snack.
Serves: 4
Time: 60 minutes
Ingredients:
1 cup black rice, soaked overnight (ideally)
400ml organic coconut milk
1/2 cup water with soaked rice, 1 1/2 cups water with un-soaked rice
1/2 teaspoon himalayan salt
1 teaspoon organic vanilla paste
1 tbsp. organic coconut sugar
1/3 cup organic coconut flakes
1/3 cup organic flaked almonds
Seasonal Fruit: mango, banana, passion fruit, peach, blueberries, strawberries
Drizzle of organic maple syrup
Method:
Rinse and cover rice with water to soak overnight ideally or as long as you have time for.
Drain and rinse rice again. Place it in a pot with the coconut milk, salt, coconut sugar, vanilla bean and more water. Bring to boil then simmer and cook covered until the rice is tender and majority of the liquid is absorbed. Make sure to stir the rice mixture consistently.
Depending on how long you were able to soak the rice, your cooking time will vary. Cook for approximately 50 minutes for unsoaked rice or 25-30 minutes for soaked rice.
While the rice is cooking, cut up your desired seasonal fruit.
To serve, place some black rice in a bowl with fruit, shredded coconut, flaked almonds, a drizzle of maple syrup and a little coconut milk.