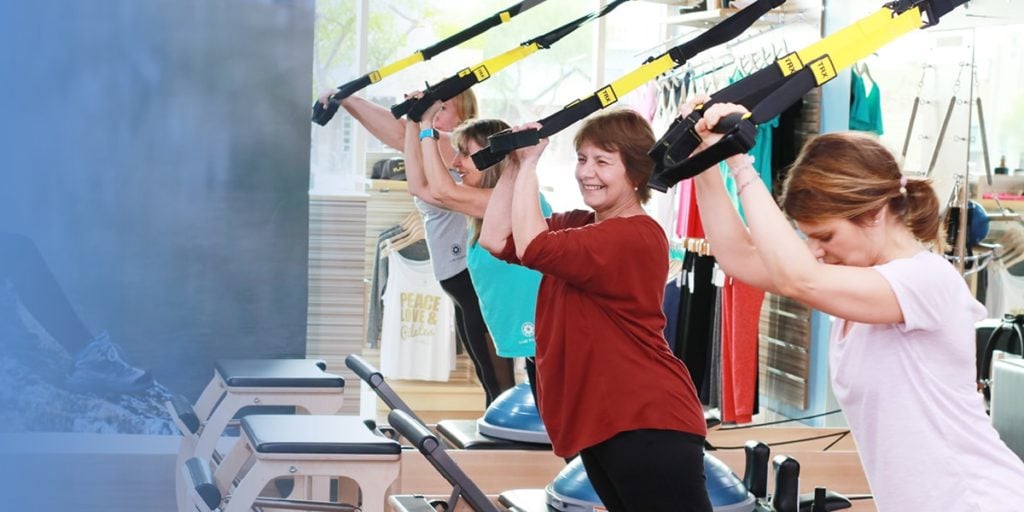 ---
The TRX is a tool used in the fitness industry that has become a mainstay of the best gyms and an indispensable tool for trainers. Its popularity is based upon the successful results attained through multiple applications. There are benefits to using the TRX that allow individuals of all different body types to enhance strength and balance. Grips and handles are ergonomically designed and the TRX adjusts from 6 feet to 9 feet to accommodate users of all sizes and ability levels.
Excellent balance and posture are synonymous with physical strength. The value of the TRX is its unique ability to target joint and spinal strength. The TRX has a single anchor point with straps and handles stretching out and away from the anchored base. The design necessitates careful controlled movement at the opposite end to maintain balance and control. Executing basic exercises like bicep curls and chest presses require consistent attention to maintain balance and control of the straps. This forces deeper core muscles to activate. The best part is countless variations allow for a multitude of challenge levels benefitting every individual!
The TRX is ideal for clients requiring modifications due to injuries, pregnancy and special needs. Exercises normally done with the use of bodyweight alone can be too intense and even harmful for certain injuries and physical limitations. These circumstances can be easily modified by utilizing the TRX suspension trainer for additional support.
The TRX Commercial Suspension Trainer will help users attain multiple goals and core strengthening benefits. It targets strength, flexibility, improved joint performance, optimal balance, posture and accommodates modifications for a custom-tailored workout. The versatility alone makes the TRX an indispensable tool that belongs in every fitness studio! Learn more about this apparatus in our suspension classes!