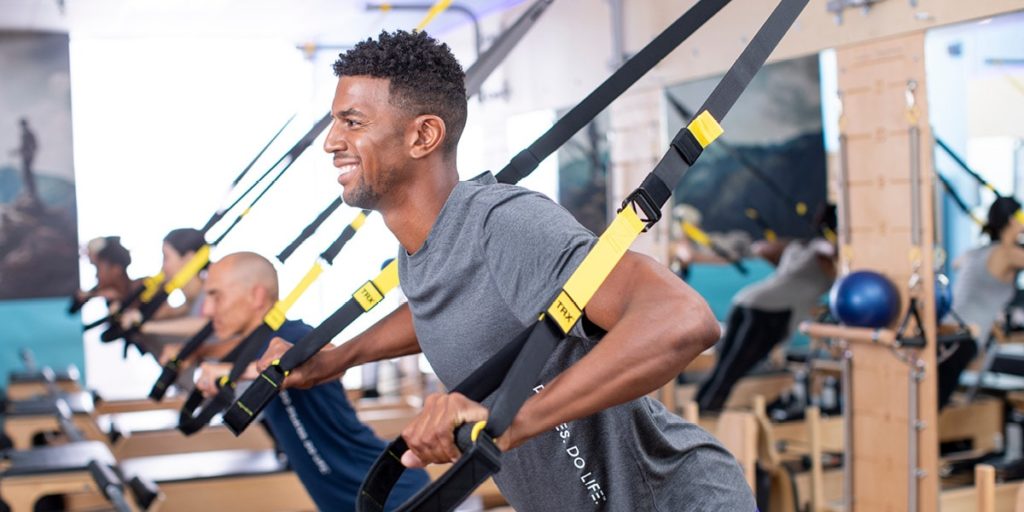 ---
Being part of the National Football League places untold demands on the mind and body. Focus, endurance, and stamina are paramount throughout the entirety of the season.

The Goal
An athlete's goal is to execute motions, exercises, or even big plays during the game with as little to no effort as possible even when the pressure is on. This cannot be done without proper endurance training and alignment of the entire body. When a ball is thrown, players don't have time to consciously consider which body mechanics to use – they must engage these muscles reflexively to catch it. Practice focuses on breaking down these fundamentals, ingraining them in the mind until the moves are reflexive. Adding Pilates to sports training helps the body learn to execute these moves not only automatically, but with proper biomechanics. Using the core and deeper intrinsic muscles to move the arms and legs can prevent injuries.
Smarter, Not Harder
Over time, Pilates helps athletes to learn to move smarter, not harder. And it's not just about making it to the professional level. Once National status is attained, pro athletes need to do serious recovery work during the peak of the season just to keep functioning. Pilates targets the overused, strained areas that most need attention.
Pilates Benefits
Working on balance, stability, and regaining symmetry between length and strength is all done via resistance to their own body weight or Pilates apparatus. Muscles mobilize better when the joints are freely moving, encouraging optimal performance. A consistent mind-body connection and strong joints make athletes less prone to injury, especially during the peak of the season when the risk is high. Reinforcing the fundamentals of how the body should properly move can help give athletes the extra surge of energy necessary to gear them up for playoffs.
Who Does It?
The start of the season may be when athletes are at their prime, but concentration on recovery can maintain their endurance needed to last the entirety of this season, as well as seasons to come. Big-time players like 49ers Linebacker Ray-Ray Armstrong and Super Bowl 50 champ Kayvon Webster know. The Pittsburgh Steelers' wide receiver Antonio Brown engages in Pilates Reformer workouts."It's all about being elusive – you want to be able to get away from guys," says Brown. Houston Texans defensive end Christian Covington agrees: "This offseason I was introduced to Pilates and that's really opened up my world with regards to hip mobility and flexibility, and my flexibility in general."
Professional football players push their bodies to the limits in order to win that grand prize at the end. The Big Game is one of the most televised events of the entire year. With pressures high, players need to maintain and sustain everything they've learned and trained for. They can't leave it all on the field if they don't even arrive. That's why NFL athletes choose Pilates.