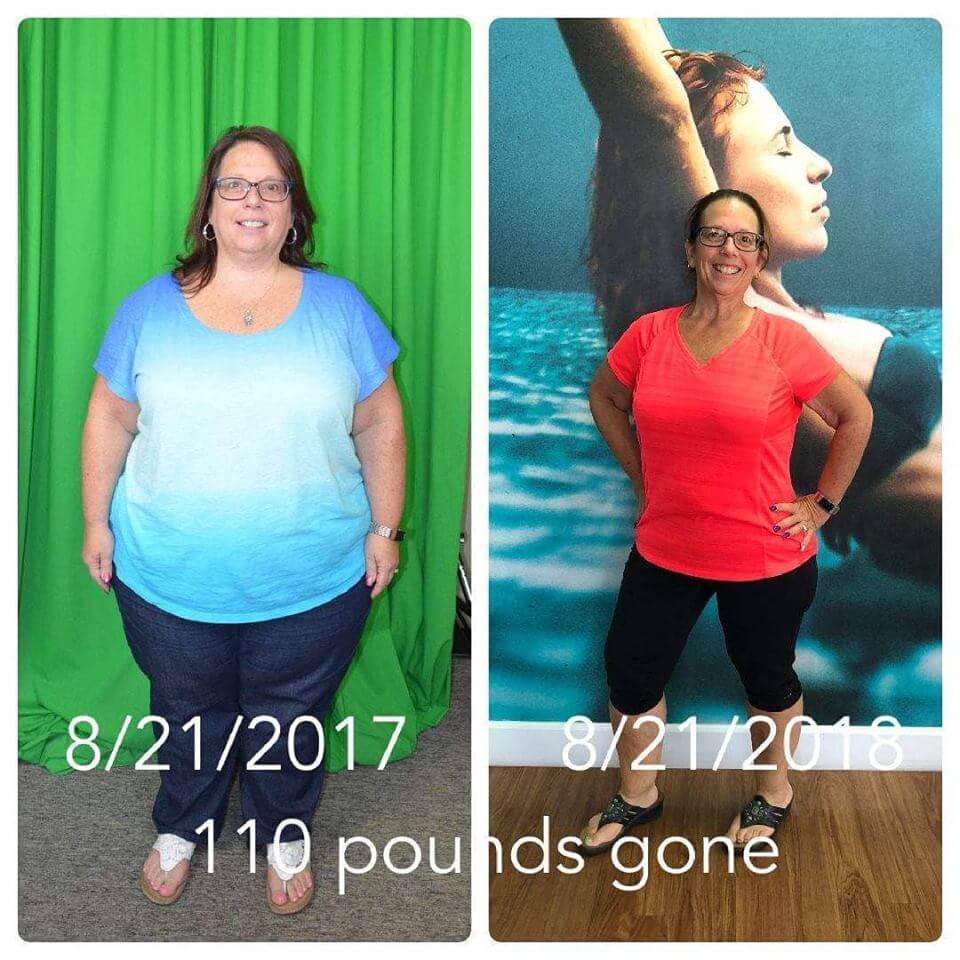 ---
Before Pilates, I was not doing any exercises at all.
3 months before starting my Pilates journey, I had Gastric Sleeve surgery being that I was extremely overweight and lethargic. I used the excuse that all the walking I did at work was exercise enough.
After surgery, my husband began talking about Crossfit and I knew that was not for me. I was interested in toning and strengthening my body but without the muscle building and intensity of Crossfit. Several coworkers of mine talked about Pilates and how much they loved it. It sounded like something that I would actually enjoy. Before beginning my first class I was afraid I would not be able to do the movements and sustain the positions. Fortunately, I overcame my fear and took the Intro class. I fell in love!
Over time, I surprised myself, with the support and dedication of my instructors.
Beginning this chapter in my life I knew that I had to find a routine that I loved so much that I would want to continue. It has been just over two years now! With Club Pilates, I've not only found the satisfaction of working out, but I also have a family of ladies that support me and encourage me with new moves and levels of difficulty. Moving from Level 1 classes to 1.5 took time but allowed me to fine-tune the movements and intensity.
I am now happily taking level 2.0 classes!
I lost more than half of what I weighed - 134 pounds - which feels amazing. I don't ever remember being able to walk into any clothing store with the ability to wear anything I wanted. I feel truly blessed. My energy has increased to sustain a busy day followed by a Club Pilates class. I enjoy wearing clothes that I would never have been able to wear and am finding the "new me".
Pilates has given me confidence in my body and how it moves. I didn't expect how much I would learn through my Pilates classes. I am able to identify my muscles as I move about my daily routine and insert exercises throughout the day to support my Pilates workouts!
Now that the weight is gone, I continue to monitor my carb, sugar, and calorie intake as well as the amount of water I consume. Pilates has even helped tone my excess skin from weight loss. As long as I continue this I know I will keep the weight off forever.
Prior to my weight loss and Pilates Journey, I hid behind others in photos and always stood near the back of groups. Four months after beginning Pilates I led my staff in a Flashdance for the students and parents of my school! We were on the news and I was elated to see myself dressed up and dancing in front of hundreds of onlookers.
I currently attend Pilates for 4 days a week.
I am able to release any stress and work-related worries during the course of a class and feel rejuvenated when the class is over. It helps that the instructors are upbeat and have a great sense of humor. I have always wanted to be an outdoors person, enjoying the beauty that Nevada provides. Now, I am happily hiking trails in Red Rock Canyon and Mount Charleston. I look forward to hiking Zion.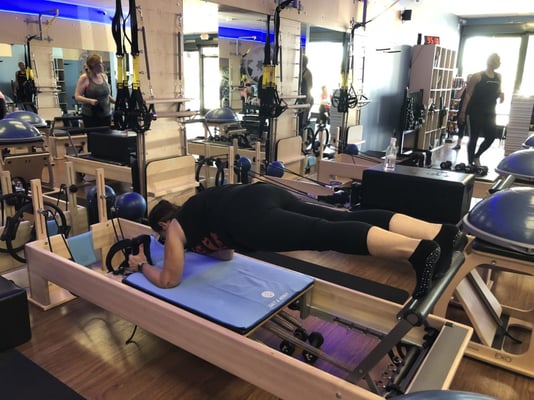 When I began Pilates, I never imagined that I would want to take a level 2 class. As I went from planking on my knees to planking on the box, to planking on the Reformer, I realized I was actually becoming stronger and I was no longer a 1.0 girl. After several months in a 1.5 class and being able to do the challenge movements of many exercises, I decided to try a 2.0 class. With the support of Bre, I was successful in that first class and now I am hooked!
I did not expect to gain knowledge of my muscles and how the slightest change in movement works and tones a different muscle.
I shared my story and background when I first joined with my instructors so they would better be able to help me during the Pilates classes. This turned into a genuine feeling of strength from them, pushing and supporting me with every new, unique movement. As my strength increased, so did their help in increasing the intensity for my benefit.
I look forward to seeing my instructors (Bre, Chelsie, Amy, Michelle, Marvette) and the other members - I love them! The classes are a lot of fun. We always find ways to laugh and support each other. They are great group of ladies that have been in my classes from the beginning. I thank them for all the support and encouragement they have given me!