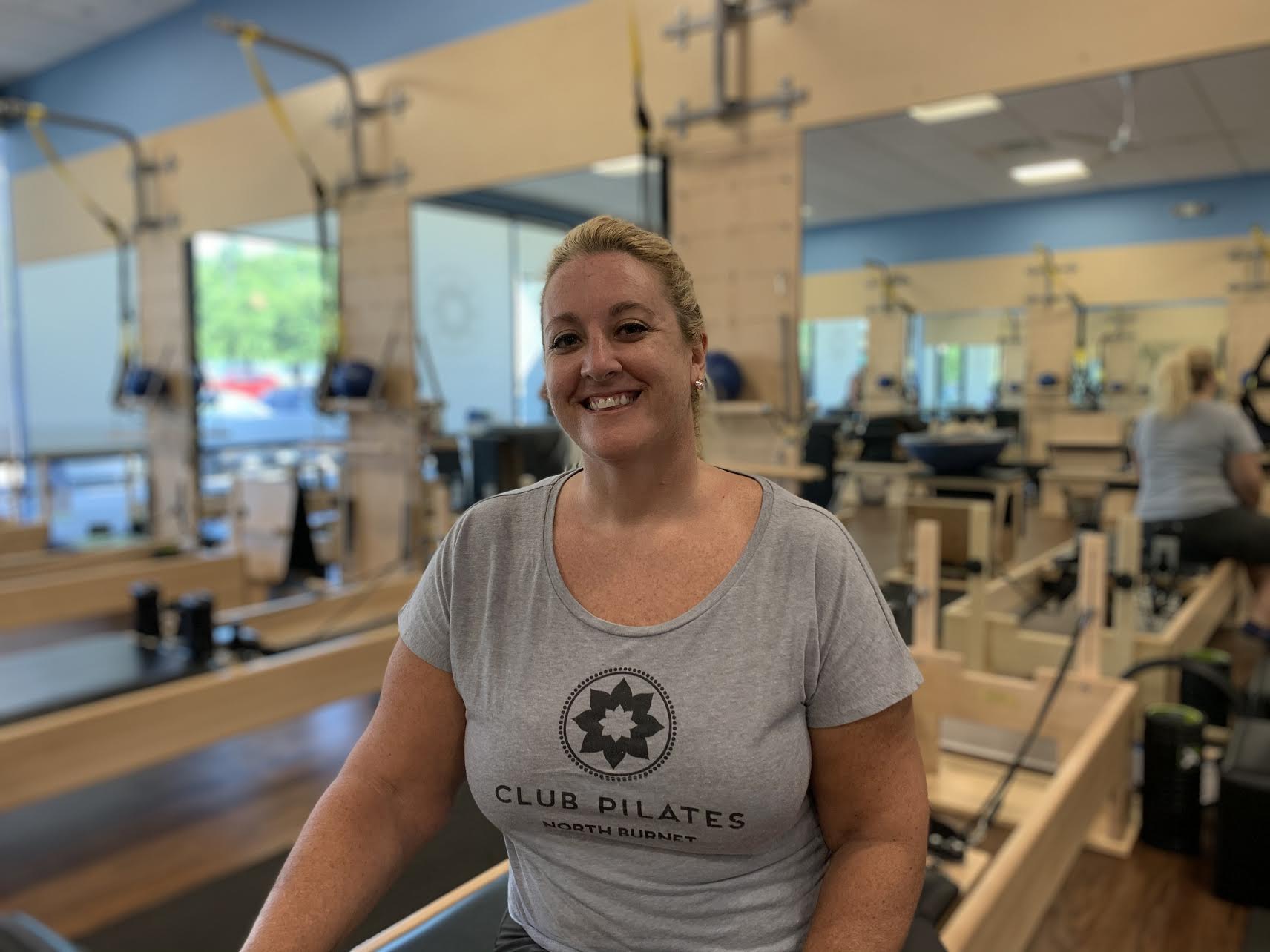 ---
I was not committed to any type of exercise prior to Pilates. In the past I've walked, kayaked, belonged to gyms, owned exercise equipment and videos, and worked with a personal trainer amongst other things. I now know that those things did not have a lasting impact because they were missing what Pilates has.
I enjoy the class environment of Pilates where I can challenge myself and have others around me also trying hard, which inspires me to push myself further. The space feels comfortable and safe where I don't have to be concerned about my hair or makeup or what I look like moving. While I liked the movements/exercises I've done in the past, utilizing the Reformer makes the movements fun with less stressors on my body. I enjoy feeling like I am stretching and lengthening while focusing on my breath, which was never a part of any prior workout.
My health was a concern for me, and I got to the point where I knew it was time to focus first and foremost on my wellness.
I began working with a functional medicine doctor who emphasized exercise as an important component to my plan. A Facebook ad for the opening of a new Club Pilates studio caught my attention at this same time. I had heard of Pilates but never experienced it. Essentially, I took the chance and signed up for membership; I just knew I needed it. Less than 2 weeks later I had a heart attack, which was ironically 1 week prior to the Club's opening and my first class. I felt adamant that the universe was telling me to take my new strategies for health seriously. If I wasn't committed before, I certainly was now.
Classes began right when I really needed them most for my wellness journey. I was excited for the new experience and ready for the challenge. I knew it would take time to see improvement in my health, and I was in a great state of mind to celebrate the small steps it would take. In many ways, class right now feels very similar to when I began. Not having access to the studio due to quarantine has made me reinvigorated and more appreciative than ever of Club Pilates facilities, instructors and classmates. It still feels like a place to challenge myself as well as a place to accept where I am with the knowledge that I am making significant progress in strength, flexibility, reduced stress, and overall wellness.
I absolutely feel challenged in each class!
No matter what type or level of class that I am in, there are always progressions that the trainers invite us to try. I really like that part of Pilates because, if I am having an off day, I can do the basic movement expected and be challenged. However, if I'm feeling strong and energized that day, I can really push myself to my maximum capabilities. We have the ability to choose and to be flexible with the level of difficulty we engage with depending on how we feel and wish to challenge ourselves each class.
Pilates has made my body stronger.
It's amazing how movements, even as basic as bridging and planks, were so difficult at the beginning. Now I can do advanced progressions that demonstrate to me the advancement of my abilities. A wonderful side effect has been the drop in clothing sizes as well. I look forward to each month as I feel and see my body improve.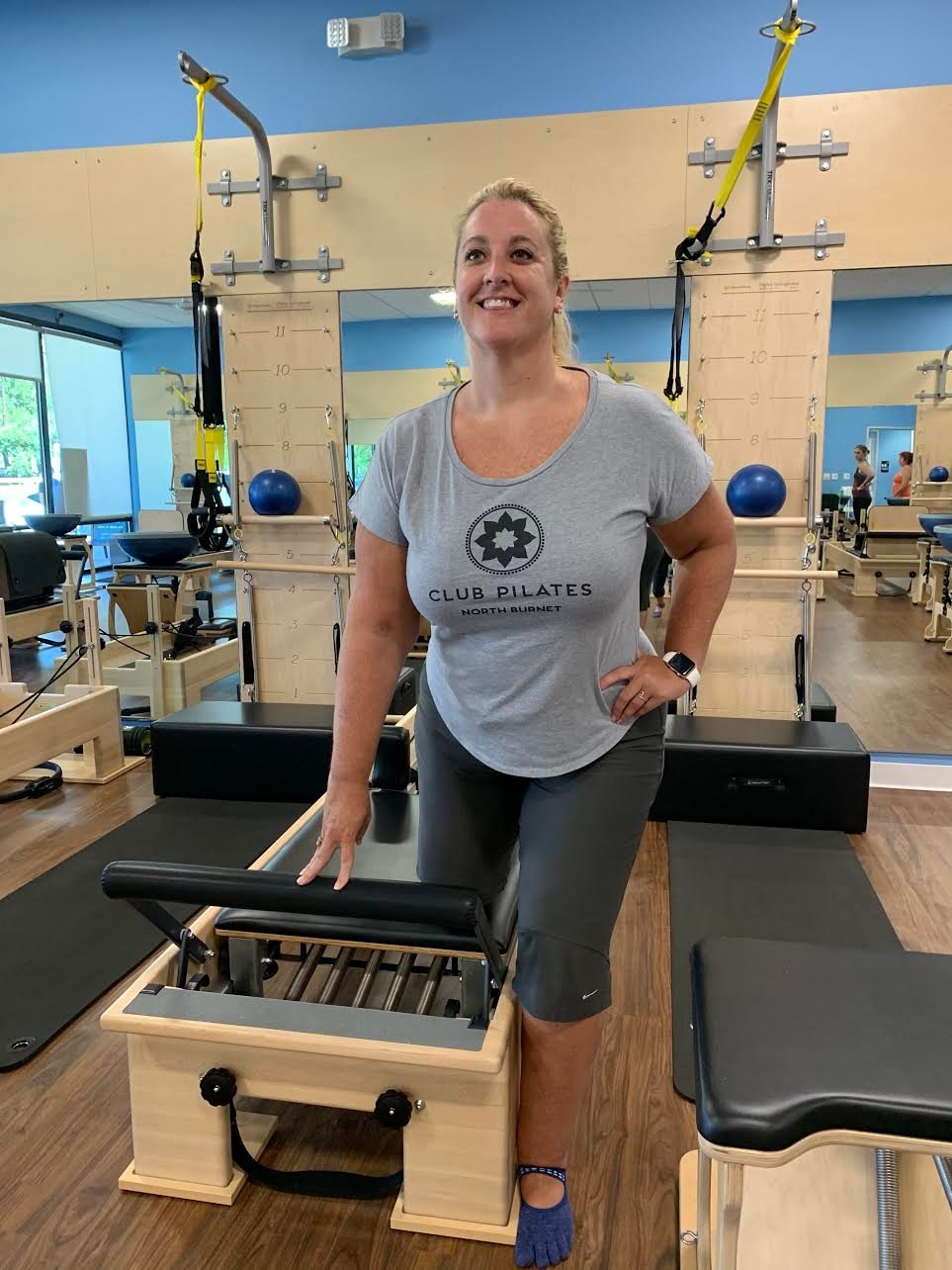 I have practiced mindfulness and meditation for several years. One of the most important benefits has been regulating my stress.
Integral to the practice is breath work, which not only regulates the mind but also changes the body.
Pilates utilizes breath work in every movement. We are coached on utilizing breath as an integral part of each exercise. I know that Pilates directly improves my health holistically – mind and body. Also, the very act of getting myself to the studio and doing my best in class makes me proud and feel good about myself, which then directly impacts the choices I make in other areas of life such as food choices.
I look forward to working on the Reformers and to seeing the instructors.
All of them are super friendly and supportive. They care, push us to where they believe we can go, and support us when we've reached our limit completely judgement free. It is rare that I have not gotten a giggle or laugh from a class. They are a real gift to my wellness experience. My favorite class is Center and Balance with Meredith. I have been in every Saturday class possible since I started with her. It's my treat to myself for the work I have asked my body to do the entire week. During the week I take Reformer Flow classes primarily as well as at least 1 Cardio Sculpt class. My goal is to get 4-5 classes in a week.
My blood pressure has been a challenge of mine, which shoots high due to stress, no longer does so with any regularity. Because of my heart attack last July that was primarily stress induced, stress regulation is a necessity for me. I know that going to Club Pilates and focusing on strength, flexibility and breath work has had a direct impact on my normalization of blood pressure as well as overall improved wellness.
Since many of us in the studio began at the same time, we have grown together in our classes.
A few months after the studio opened, in one class our trainer was pushing us in new ways and in new movements. While we are all usually focused and do not vocalize a lot while working out, this class was different. We all got laughing as we tried to do the exercise, and as our trainer remained ever enthusiastic. It was challenging and some of us could not get our bodies to move yet in the way we were asked. It was so funny hearing – and saying – "my body is not cooperating, it won't move that way". Of course, it could and it finally did. However, it was the collective shared experience of discovering ability in what we had thought we never could do that made that class so special. There was laughter from the joy in that discovery.
Something surprising I've gained that I didn't expect was a passion for exercising!
I miss it when I cannot go, look forward to upcoming classes, and am grateful for the impact it has had on my wellness. Coming from not ever having a true enthusiasm for any exercise activities I've done before, this is an amazing revelation!
Heather - Club Pilates Member at North Burnet