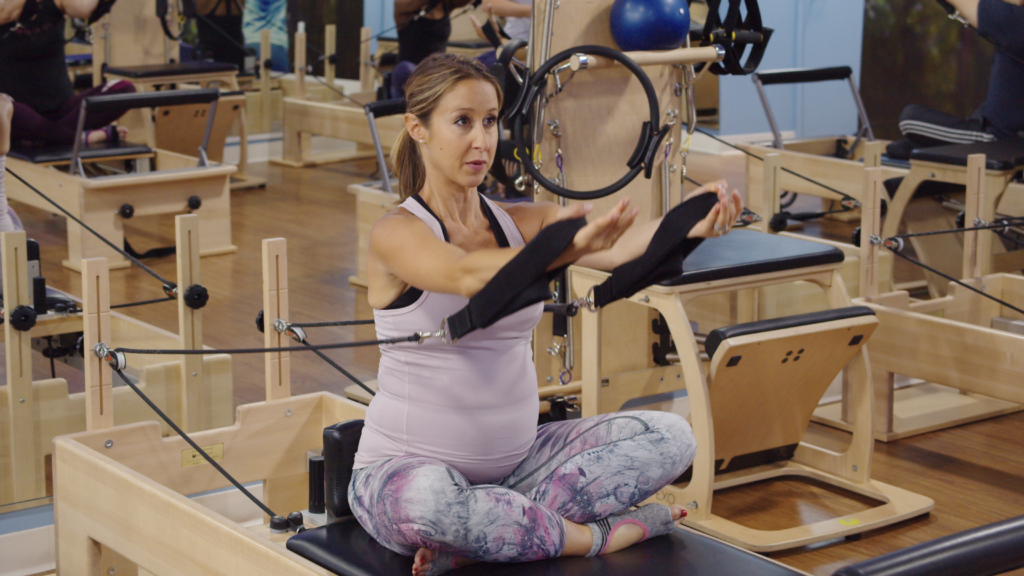 ---
"Before I found Club Pilates, I did some cardio (mostly running and some spinning), sometimes used arm weights or did abdominal crunches (as the spirit moved me - ha!) for the last 22 years. I didn't get the muscle definition and strength I was seeking. Also, my overall ailments such as chronic lower & middle back pain, stress pain in neck and shoulders, limited movement and flexibility were never lessened from the workouts I was doing. I tried Beach Body at-home workouts post my first pregnancy for variety and I was missing something. I couldn't see or feel results and it was just as difficult finding time to turn on the TV as it is to schedule classes at a CP Studio away from home… but at CP I am guaranteed "me time" with no interruptions!
Years ago, I bought Pilates tapes off an infomercial and I enjoyed the workouts I learned and the concept behind Pilates. I also had a close friend that had many lower back problems after children and was healed by Pilates, she compared it to PT with added benefits.
Even though I am not experiencing these complications anymore (thanks to Pilates!), I had pinched nerves, aches, pains, muscle spasms, a stiff back… I would stay in bed late afternoon into the evening (which would make it worse) and was visiting a chiropractor several times a week from constantly knocking out my hips and alignment. I've been active with all 3 of my pregnancies - age 32, 33 ½ and now 38 ½ years old - but my body has felt the strongest and most stable with this pregnancy ironically after 2 previous c-sections and 18 months of Pilates. Third time's a charm!!
I have completed 548 classes in under a year and 8 months!
I try to take classes 5 days a week or more. It NEVER interferes with family time. I ask my husband before I take a class on Saturday or Sunday morning (rarely both). I will go during lunch, or after volunteering at school at night… whenever it fits best with my day and my family. I love morning classes after dropping the kids at school and before my daily workload gets heavy. Also, I will take back-to-back classes 1 or 2 days a week if I have the time and the classes complement each other (i.e. a Reformer Flow class with FIT or Suspend).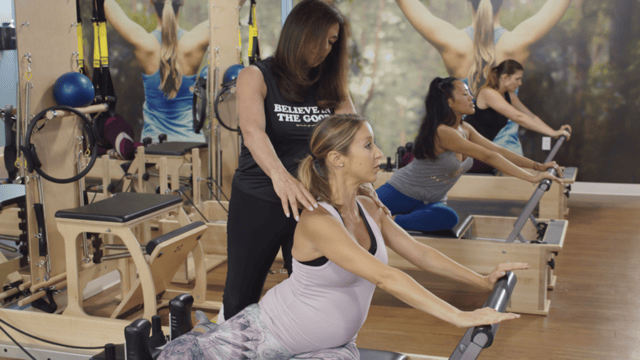 I get something from every instructor.
Scheduling classes that work for me at Club Pilates… I don't get too picky. Sure, I have my favorites that help progress my practice and challenge me to get to the next level, but I am not scared to try a level above or a Level 1. Now I know how to modify or make an exercise more challenging by lowering my legs, lifting my head, keeping my ribs down, lengthening my body, staying strong and focused in my core and being aware of my breath with each movement. I have learned, and continue to learn, that Pilates is all about the details and your focus. I ask questions ALL the time for clarity, to make sure my hips are aligned properly, I am practicing the movement correctly and keeping with the instructor's intention.
The outcome that I saw was not what I had originally expected. I have gained body-acceptance!
Pilates has given me arm, shoulder, back and "bye-bye" tricep muscle definition. It healed my lower back pain (which would leave me unable to stand straight or walk some days) through core strength and definition, better balance, and stress relief. Pilates makes me proud of the body I have. I now accept my imperfections which is leading to a more sound mind, and confidence to accept myself as I age.
Pilates is a stress reliever and an accomplishment I can be proud of. Feeling good makes me the best version of myself; thinking sharply & making better choices with temperament, food, patience, and parenting.
Every class is fun because we all accomplish the same end goal together! It's been truly heart-warming going through this pregnancy with people that see me grow (literally!) daily. The Club Pilates team are some of the first people I shared the news with… I was bursting with excitement and couldn't hide it! The encouragement, love, and support are humbling. There is no judgment… it inspires me.
If you have even the slightest idea of what Pilates is or are thinking about trying it, I would say to take it one exercise at a time. Trust your practice and try to be present and focused on the entire class. Everyone is at a different level and 12 individuals practice together. No one is looking at their neighbor. It is an individual experience with motivation from the instructor. Mind your breathing!