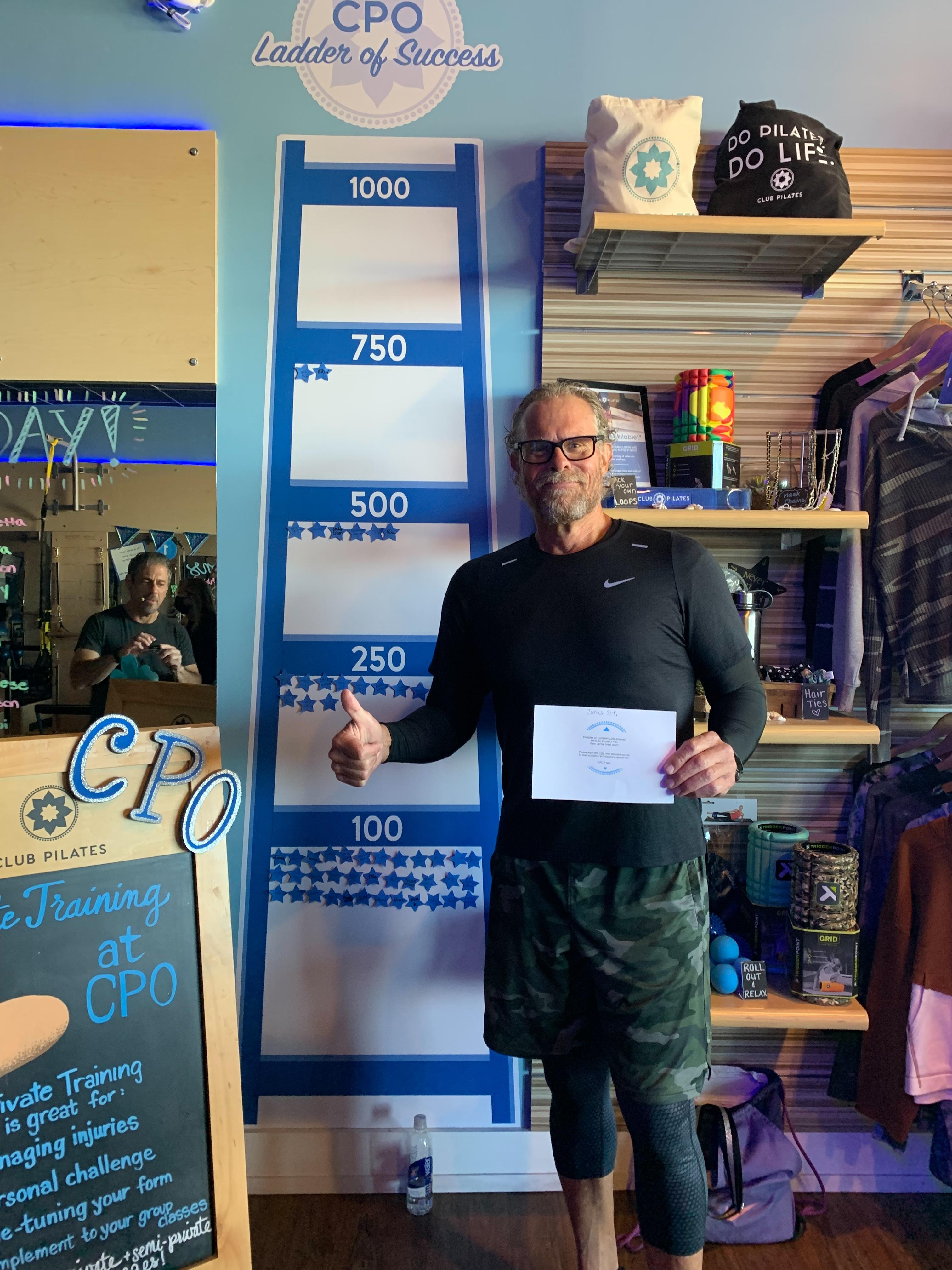 ---
Meet Jim: a former athlete, Pilates lover, and now Instructor-in-Training.
Having recently hit his 250 Class milestone. James (Jim) is a former athlete who joined his local studio with a hip injury. He went on to go through the teacher training program, where he is currently working on earning his certification! He plays pickleball, beach volleyball and also goes to the gym to lift weights and do cardio regularly and says that Pilates has been a game changer for all of his sports activities.
What started your love/passion for Pilates?
I signed up at Club Pilates Oceanside after an MRI revealed I needed a hip replacement. Rather than take that route, I sought alternative workouts that might delay the need for such a radical procedure. After 30 or so classes, I realized that my lack of core strength had a lot to do with my hip issues as well as other weaknesses that I was experiencing. I could see improvements in my athletic endeavors, and I felt a lot better too. I'm passionate that men need Pilates as part of their regimen more than anyone else.
Can you share a bit about your background in sports & fitness and how Pilates compliments it?
I was brought up around all types of athletics, but I eventually focused on Football, where I earned a Division I scholarship out of high school. I was fortunate to have had a rewarding career playing ball at a high level, with and against Hall of Fame players and the best teams in the country. However, to play at such a high level, I needed to double down on working out and preparation. I was mesmerized at the pure athletic abilities of my teammates and opponents so if I were going to contribute, I needed to do everything possible physically and mentally. Every year I was at the top of our strength and conditioning testing. At the time however, (late 70s/early 80s), the majority of work was around weightlifting and conditioning drills. I wish I had been exposed to Pilates at that time as I would have made it a part of my core regimen. I also worked hard on technique which also plays a key role in Pilates. My road ended in college, but with an Economics Degree from an outstanding school.
How did you decide to take that love to the next level and go through teacher training?
I'm retired after spending 34 successful years in high tech, software, and cyber security Sales. Throughout my life I always advocated that people stay fit, manage their weight, and if they did that they would look and feel better. Athletes like myself could continue competing in various sports late in life. I always wanted to help people in that regard, and that is what piqued my interest in Teacher Training. I chose Pilates over everything else because I'm passionate that men really need Pilates more than anyone, and there's a wide gap in the male to female ratio of those who do Pilates. I have a saying, "You can live your life to live it as long as you can, or you can live your life just waiting to die." It sounds harsh, but unfortunately, there are folks out there who are convinced they are too old, or too injured, or compromised to be active. I think that's sad, and I want to help people change that mindset. Pilates can really help people in that regard.
What did you learn about yourself going through the TT program?
Ha! What I learned is that I'm a much better Teacher than a Student! In my 34 years of work, I held many leadership positions. I have struggled with being at the bottom and climbing to the top. I need to do the work, and finish the program but after all those years as a "Teacher, Leader, Manager", it's hard. I also realized however that I am very well equipped to be an Instructor. I actually feel I can teach a full class now! Being in front of large groups, presenting, and so on eliminated that challenge. In my classes I saw that one of the hardest things for others to do was be up in front of a group. I live for that, so it comes naturally to me. I also have learned that I can achieve my goals of helping people.
What are you most excited to share about Pilates with future clients/members?
As we know all too well, life changes, and throws us a curveball, or worse. As we age, our bodies change no matter how much we try to prevent it. Be open minded to new things, give them a chance, and you will see amazing results and feel better. One common theme amongst men is how getting surgery becomes this "badge of courage". Guys love to talk about their injuries and how they play through them, how they still lift heavy weights. I still lift weights, that's fine-- but I see guys beating their bodies up for no good reason whatsoever. There's a reason so many women are into Pilates! All of them have good reasons. I was told two years ago I needed my hips replaced. I incorporated Pilates into my routine, (as well as Bikram Yoga), and I will never look back. Men at my age really need to wake up!
What's your favorite thing about CP Oceanside?
CPO is my little zen place each day. I like all the people there, and I also enjoy working on all of the various apparatuses. There's so much creativity to be had, and so much more to accomplish. It gets my day going. I start at CPO, get focused and either hit the Yoga studio, the gym, or go play beach volleyball. But Club Pilates sets the tone for doing all of those things.