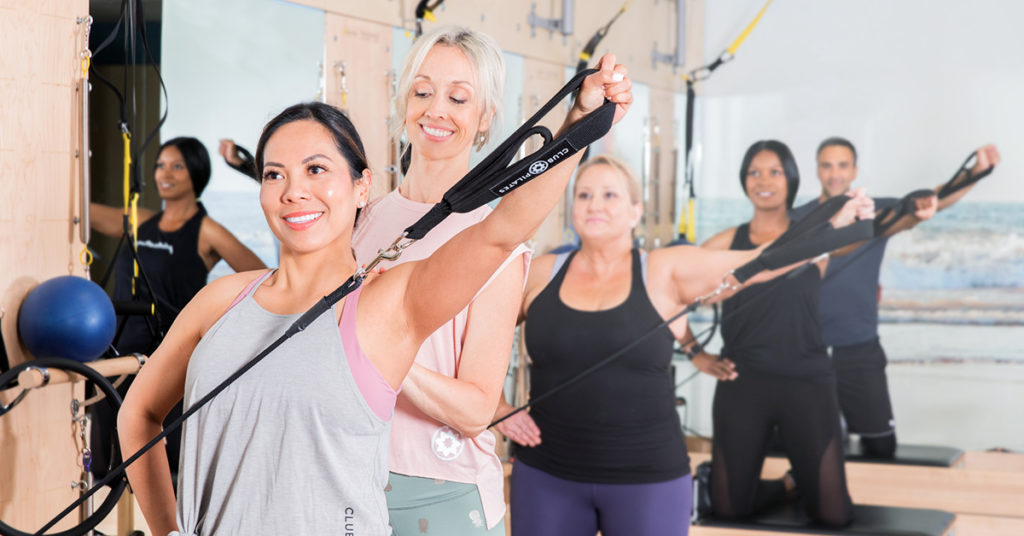 ---
I love the way it feels and felt when I walked into the studio for the first time. It's so welcoming and everyone has a smile on their face. In gyms, you feel like just another number pushed through the workouts without caring about who you are. This is quite the opposite with Club Pilates. In my studio, Brentwood, the lady at the front desk or even the instructor while teaching a class will say "Hi Titia!" when I walk in. It really feels like a community. Everyone is so supportive. If someone is struggling with a move, the class will encourage that person and help them along! The class size is small enough to get individual attention from the instructor. I know that the instructor is there to give me the best workout and to correct my posture or form if it needs adjustments.
-Titia [Brentwood]
When I got out of that first class, I realized it wasn't anything like I thought it would be. There were no size 2s in matching outfits judging me. No one stared at me because I was so out of shape or obese. We didn't get yelled at or had to jump around to pounding music. My instructor, Michelle, was so funny and welcoming – even when I couldn't figure out how to put my feet in the straps! When I left, my legs were like noodles, but I didn't feel like I had just been through a horrible, sweaty workout. I felt energized and refreshed. That night I had the best sleep in years. The best part for me was that when we laid down on the Reformer, no one was watching me. I could concentrate on what Michelle was saying and do the very best for my body on that day. I remember my arms didn't fit on the Reformer when I laid down, but nobody stared at me or judged me and I didn't have to hide behind all the "fit" people. What a relief! Everyone was staring at the ceiling concentrating on themselves. It was so refreshing.
- Kathy [New Braunfels]
I feel it becomes a competition amongst the students rather than self-improvement. So, my expectation when I joined was exactly that. I had never been to a Pilates class before and didn't know what to expect. The Reformers looked intimidating. Taking an intro class with my friend was a pretty basic representation of what Pilates was. I thought…If this is Pilates…its easy! Little did I know that it was the exact opposite. Instead of bulking up my arms and shoulder, I became toned. Abdominal strength has helped my posture. And glute exercises have diminished by back pain and completely rehabilitated my knee injury. Best of all, I'm in competition with myself. I measure how much progress I've done with every class.
-Lynn [Tribeca]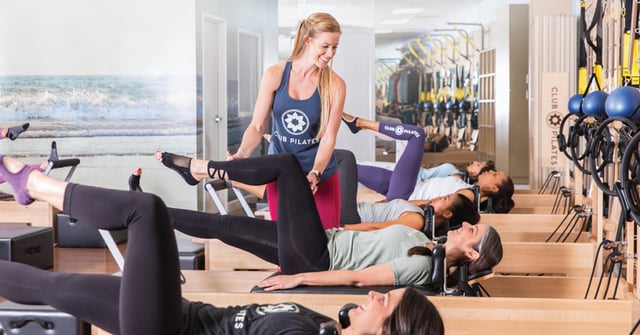 After about a year, I looked online and saw Club Pilates Frisco was opening! Based on my many questions to the general manager and owner, as well as my friend's recommendation, I decided to join before they opened. I started taking classes the first week they opened in February 2017. I was immediately addicted. The instructors were encouraging and supportive of me with my out of shape body. They never made me feel bad, but in fact made me feel like I could actually accomplish my fitness goals. Accommodations are given in class for my arm so I can work on making it stronger (I could barely take a water cap off a bottle when my arm was swollen). Every time I walk in, the staff members greet me like I'm an old friend. I find myself revolving my schedule around my favorite instructors!
-Terri [Frisco]
Coming in on February 17, 2019, for the Pilates introductory class, I was very, very skeptical. To my surprise, I could see how, if I focused on the proper muscles to be used for each specific exercise explained, this type of exercise could be greatly beneficial. When I was told that many hospitals were adding Pilate's studios for rehabilitation, I was sold. I started slow, with only 4 classes per month. I thought "I am tired of jumping all in, then coming home injured", so against my normal routine, I started gradually. My goal has always been to get 5 great workouts in each week. After attending 4 Pilates classes per month, I realized very quickly it was not enough. I really wanted more. I increased to 8 classes per month only because I wanted to ease into this type of workout (this goes against my typical nature of jumping all in, but I knew I needed to change my behavior to avoid injury, to do things safely this time). However, once again, I quickly realized I wanted more than just 8 classes per month.
-Sandy [South Naperville]
My first class I found had its challenges both mentally and physically. I had no mind body connection and my supportive muscles were weak! I had been in daily hip and back pain due to my Hydronephrosis (swelling and water retention of the kidney). When I left my first class my back and hip felt alleviated. I do remember thinking, wow this footwork is hard! Which I now find to be a warm up. I was absolutely hooked from how my overall body felt after my first class and just how effective the exercises were.
-Kelsey [South Surrey]