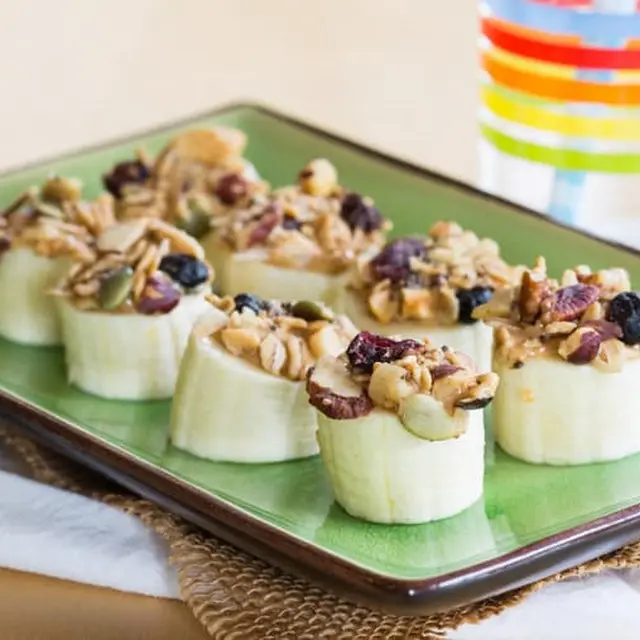 ---
Craving a light peanut butter snack? We are too! (always) Check out a few of our favorite Peanut Butter snack recipes that are easy to make & delicious to satisfy your PB taste buds!
Frozen Peanut Butter Banana Bites
Ingredients:
2 small-medium ripe bananas
1/2 cup peanut butter
8 oz. carton Fat Free Cool Whip
1/8 tsp. salt
Instructions:
In a large bowl, mash the ripe bananas. Beat in peanut butter until smooth.
Fold together the peanut butter and banana mixture with ½ c. Fat Free whipped topping. Add the remaining Cool Whip in two separate portions, folding well after each addition.
Scoop or pipe the mixture using a resealable bag with a small slit, into mini muffin liners.
Set them in a cake pan to freeze for an hour and them pop them in a resealable bag to store in the freezer for up to 2 months.
Peanut Butter Fruit Dip
Ingredients:
2 (5.3 oz) containers Vanilla Greek Yogurt (or 1 slightly heaping cup)
1/3 cup creamy peanut butter
1 Tbsp honey , or to taste
Instructions:
Add all ingredients to a bowl and whisk to blend until smooth. Serve with fruit (recommended bananas, apples, raspberries or strawberries). Store in refrigerator in an airtight container.
Peanut Butter Banana Bites
Ingredients:
1 banana
1 tablespoon peanut butter (or other nut or seed butter)
2 tablespoons granola (use more or less, as desired)
Instructions:
Peel a banana and slice it into about 1-inch pieces.
Spread some peanut butter on top of each piece.
Dunk it in granola.
Snack time!