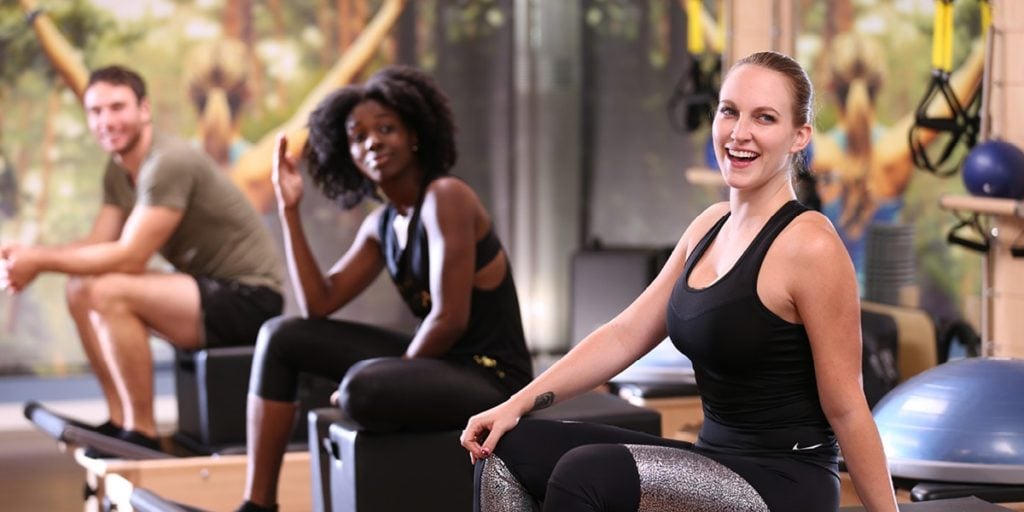 ---
If you're anything like me, trying to squeeze any cardio into your workout routine is a chore. Seriously, I would rather wash a sink full of my roommate's dirty dishes than do any cardio at all. Nevertheless, I've tried to find my "thing". I've tried running. I was looking for a "runner's high" and all I got was sore knees. I've done the elliptical. No soreness in the knees, but that clock on the elliptical makes a 30-minute workout seem like 30 days. I found out that cardio machine minutes are definitely longer than normal minutes.
I've done indoor cycling. I'll admit this was a bearable form of cardio for me, but I didn't love working out in the dark. I'm not going to lie, when I saw that Club Pilates had a Cardio Sculpt class, I had no intention of taking it. The universe (aka me not paying attention to what class I was signing up for) had different plans. By the time I realized what I had done, it was too late to back out. So, I got in my car and mentally prepared myself for 50 minutes of cardio.
I was new to Club Pilates when I stumbled into this class, so I had no idea how cardio was going to be incorporated and was worried it was going to involve a lot of jumping (hello, sore knees!). What I found was that it did involve a lot of jumping, but in a way that was totally unexpected. When I walked into the studio, I saw these boards at the end of the reformer in front of the foot bar, perpendicular to the reformer. Still skeptical, I chose my reformer and waited for class to begin.
I set up my springs like normal; two reds, one green, one blue. This turned out to be completely wrong, as the instructor had us use much fewer springs. This is when the lightbulb came on. We were going to jump off the board while laying down on the reformer. My first few jumps were incredibly awkward. I kept lifting my head off the reformer to make sure that I wasn't going to miss the board or crash my toes into it. I definitely had a few instances that first class where my reformer came slamming into the stoppers. It was a total learning curve that I wasn't expecting. But once I got into it, I was having, dare I say it, fun! There's something so freeing about letting the carriage float up and back. It's almost like jumping on a trampoline, but way less dangerous.
As much fun as I was having, five minutes in, I was doubtful this exercise would really get my heart rate up since it was so low impact. Cut to 20 minutes into class, the sweat was starting, and I was breathing heavy. Not only was the class physically challenging cardio-wise, but my coordination was put to the test. We began doing movements that involved jumping and switching legs. Remember when I said I slammed into the stoppers? This was why. However, I really enjoyed the challenge of every movement. The class also incorporated work off the reformer and much like any Pilates class, I still got a full-body workout. As I was walking out of class, covered in sweat, I realized I had made it through a cardio class without a single negative thought. The impossible happened. I found a way to incorporate cardio that I don't dread doing. I don't get that impending sense of doom that normally accompanies a cardio workout. And no, "doom" is not too dramatic; that's how much I hate cardio.
So, the moral of the story is, if you hate cardio as much as I do, give the Club Pilates Cardio Sculpt class a try! It just might change your mind.
About the Author:
McKenna McVicker is originally from Seattle but has made her home down in California while pursuing her MBA at Chapman University. When she's not taking a Pilates class, working or studying, she loves spending her time at Disneyland.