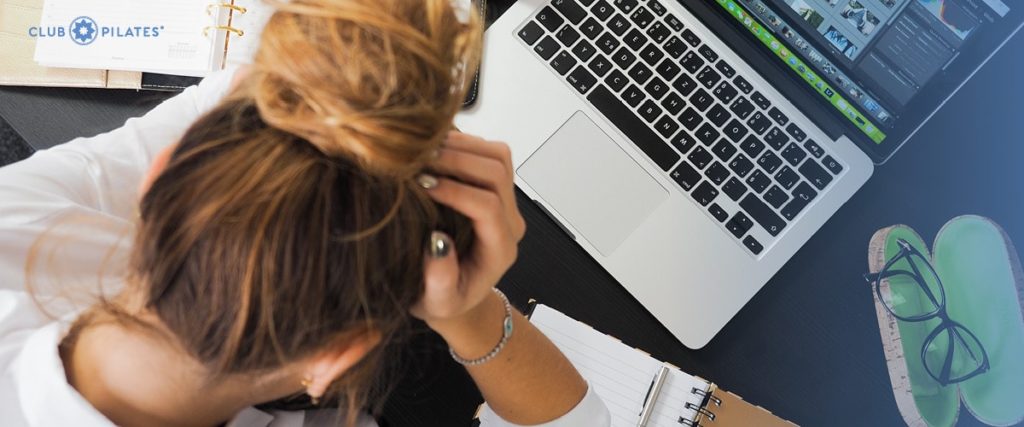 ---
With summer coming to a close, it's time to start that transition back to the grind. For many people that means going back to school and battling first-semester stress. The stores are stocked with aisles full of school supplies and all the tools to prep students for their upcoming semester. Self-care and health are pivotal to a back to school list as well.
A major part of the student lifestyle is sitting down and studying. Cracking the books can promote a sedentary posture putting strain onto the neck and back.
Taking small breaks every twenty to thirty minutes to stand and move can be a simple way to prevent joint pain and revamp you for those long library sessions.
Pilates has great exercises you can do anywhere. Moving the body in all ranges of motion like the Pilates Mermaid, spinal twists, roll downs, and perhaps a standing Swan can create space for the spine and relieve unwarranted stress. (If you'd like to try 15 minute Pilates workouts on the go, try the Club Pilates GO App!)
Getting back into the groove of listening to professors and then studying for long hours can be daunting on the mind. It's a mental workout that needs to be built up like anything else. Cramming creates extra stress and fatigue on the body decreasing the chance of performing well. Schedule weekly Pilates sessions to promote mind-body connection and stress relief. You will be amazed how much work gets done in a shorter amount of time after a Pilates session. It'll help give your joints space and mobility and provides stamina for the entire semester.
Sleep and hydration are just as important as text books and pencils.
Create ample time to rest, opt for a short nap to revamp, and carry a water bottle with you at all times. This will keep the body flowing more efficiently internally and prevent you from getting sick. A little bit of self-care can go a long way.
If you ever want something done, assign it to a busy person.
Successful people practice good time management and prioritize the major necessities in life. Start to create habits like list making to become one of those people. It helps to keep priorities in line versus becoming overwhelmed by numerous tasks or even forgetting others. Setting and obtaining small goals can make or break a long school year.
School can be an exciting time to help an individual grow and learn. Staying healthy and keeping organized can make or break a successful career as a student. If you don't have your health first, then you won't be able to accomplish anything else.
Try a FREE Club Pilates Intro class to fade that stress away with a low-impact workout.