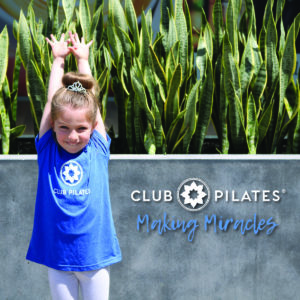 ---
As a nonprofit, Miracles for Kids serves children with life-threatening illnesses and the families that care for them. They operate programs that provide financial aid, basic needs, and wellness to patients and their families. Miracles for Kids creates stability when families are crumbling from the financial and emotional devastation of fighting for their child's life.
In the month of July, Club Pilates support Miracles for Kids by collecting donations to this wonderful charity. They have helped over 1,000 families since 2002, and we want to share the story of one courageous teen - one of the many reasons we back Miracles for Kids.
Moises was a promising high school athlete attending Beckman High School in Tustin, CA.
Described as a sweet, popular, charismatic boy with a fighting spirit, he kept busy with studies, friends and playing football – just as his older brother and father had done. Then, before his Junior year in July 2015, he was diagnosed with Osteosarcoma, the most common type of cancer that starts in the bones and most commonly affects children and young adults.
Moises remained positive and determined to fight cancer. His family, friends, and community were saddened, but supportive and ready to fight with Moises.
His treatment started with three surgeries to remove 52 tumors on his right lung and 40 tumors on his left lung. Another surgery then followed in order to replace his knee and remove another tumor. After his leg surgery, Moises faced many challenges. In particular, he could not play sports anymore or lift anything heavy. Difficult limitations for Moises to accept, but he tried to adapt and remain optimistic.
His school, with his football coach Al Mejia, offered an outpouring of support. A special event, covered by the local news, was organized to recognize his accomplishments and efforts as an athlete. Coach Mejia also started a fundraiser with the whole school helping to raise funds for his treatment. Moises' friends, including Chris with whom he played football and remains close to this day, visited him in the hospital and helped keep him motivated to continue treatment and fight.
After initial treatment in 2016, Moises was doing well, wearing a prosthetic and adjusting. Then, in January 2018 he relapsed and underwent another round of chemotherapy to reduce four new tumors on his lungs.
Following this, in May 2018 Moises was referred to a specialist at St. Jude Children's Research Hospital in Memphis, TN for two lung surgeries. Despite being away from home, Moises maintained a positive outlook, which is his doctor credited to assisting in a nice, speedy recovery.
After Moises' first diagnosis, his mom Irma left her job in order to provide the support and care Moises needed. As a single mother, this was difficult – but she was spending most of her time at the hospital with her son.
As a result of the financial hardship, they lost their townhome and struggled to pay bills.
It was during this difficult time that their social worker at CHOC Children's told Irma about Miracles for Kids and helped her apply for a financial bill pay grant. The family was approved for the Miracles for Kids Bill Pay Program, which directly pays approved bills; and in March 2018 they moved into Miracle Manor, Miracles for Kids' affordable housing complex conveniently located in close proximity to CHOC Children's.
Irma, Moises and his younger brother Max are settling in at Miracle Manor and Moises is continuing to heal. He has follow up appointments at CHOC Children's to decide on further treatment.
www.miraclesforkids.org | info@miraclesforkids.org | (714) 730-3040 | Tax I.D. #91-2160616 |