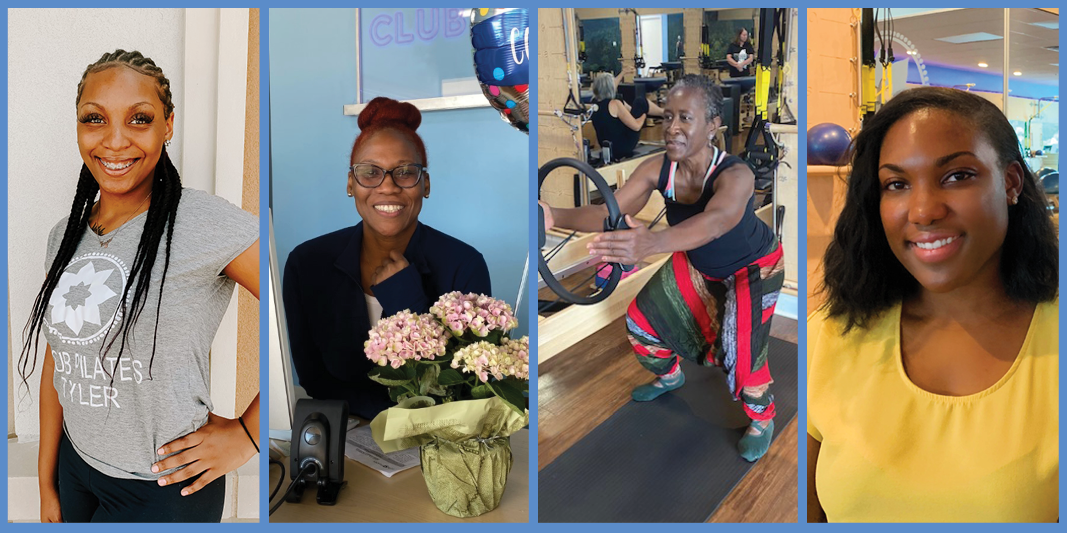 ---
In an effort to continue to create more opportunities within diverse communities, Club Pilates is proud to award these passionate individuals in the 2021 Summer Diversity Teacher Training Scholarship program.
Chassity, Solana, Grace, and Bobbie exemplify resilience in times of adversity, and share the passion to make Pilates accessible and achievable for everyBODY. Read more about their experiences below!
Why do you want to become a Pilates Instructor?
CHASSITY: The instructors here make teaching Pilates look so fun. They have the best connection with the members and I'd like to develop that same connection. I have a background in volleyball, I received offensive MVP in high school and also have a background in dance - I danced in the Macy's Thanksgiving Parade in high school and was first lieutenant on my dance team. Pilates connects to both my experiences and I want to bring those personal athletic experiences into my Pilates teaching as an instructor someday.
SOLANA: As a wellness enthusiast and Doctor of Physical therapy, I am always open to learning new ways to better the quality of life for my patients and clients. Pilates is a great activity that so many could benefit from, no matter their background or physical condition. I'd like to become a Pilates Instructor to bring awareness of its life-changing benefits to communities that would otherwise miss out on this wonderful activity!
GRACE: I want to be a Pilates instructor for several reasons. The main reason, I want to represent the more seasoned individuals who need the courage to experience pilates. Once I am certified to teach, older persons who question their abilities to do pilates based on their age will be able to look at me and share their concerns to know that it is likely I can identify yet they will feel encouraged to give Pilates a try.
BOBBIE: I want to become a Pilates instructor to help students and non-students believe in the amazing benefits of Pilates. Not only as an instructor, but a forever student as well. I want to always be eager to learn as an instructor, so that I can continue to grow my knowledge, skills and experience and bring it back to my class.
What does diversity mean to you?
SOLANA: Diversity is the ability to learn from people from all different walks of life. Whether it is a difference in culture, education or background. We genuinely can learn so much by being exposed to these different experiences and perspectives. Diversity should challenge people not only to be tolerant of others, but to try to learn from others as well.
GRACE: Diversity means no longer having to justify the lack of representation in a space or room.
BOBBIE: Diversity means ALL inclusive and a balanced variety within our people population.
What has your experience been with Club Pilates, and what are you most excited about with the Teacher Training program?
CHASSITY: My experience with Club Pilates has been great so far. I love everyone here, we're like family in this environment. That's the great thing. Everyone gets along so well, whether we're working out or just working, period!
SOLANA: My experience with Club Pilates has been nothing short of amazing. I started off with a free intro class, to later researching the Teacher Training Program! Everyone has been warm and welcoming at every location I've visited, so much so that every class I've taken left me feeling more encouraged for the road to becoming a Pilates Instructor.
GRACE: Club Pilates removed the negative assumptions I had about Pilates and allowed me the experience that is now resulting in me pursuing certification. It is learning the ins and outs of what makes Pilates work that most excites me about Teacher Training.
BOBBIE: My experience has been amazing, and the fact that they incorporated a diversity program goes to show that Club Pilates cares about ALL inclusiveness in our Pilates community. What I'm most excited about is enhancing my knowledge of total body awareness with mind, body and breath.
If you could tell someone new to Club Pilates about the brand, what would you say?
CHASSITY: What I'm looking forward to in the teacher program is showing people how to be confident in themselves again, and love their body without having to work too hard. Club Pilates is a simple way to see a change in your body and love yourself again.
SOLANA: If you are looking for a fun program that will address all of your fitness goals while keeping you inspired to work towards your goals among peers or one-on-one, then Club Pilates is the place for you!
GRACE: I am a current pilates participant and my teacher training starts in September 2021. Club Pilates is a brand that puts its money on the line to ensure its team (clients, instructors, and workers) knows they are appreciated and valued. In my experience with Club Pilates West, they are open to ideas and suggestions and always looking for ways to grow the relationships within the team.
Share your story with Club Pilates Teacher Training on social media by tagging Club Pilates.