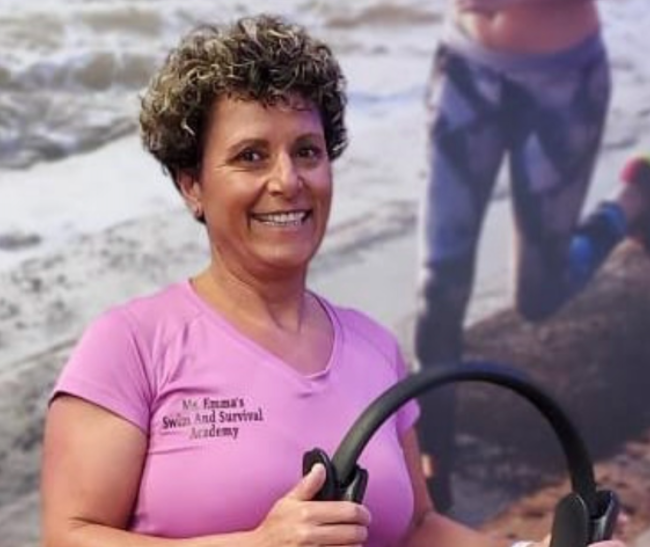 ---
Growing up in England, I was into so many different sports - but the one sport that took me to many places was swimming.
I swam about two hours before school and two hours again after school, plus competed in swim meets on the weekends. My life was extremely structured with swimming and school, leaving little time for anything else.
I moved to the United States at the age of 22 by myself, to teach in a Montessori school - living out my father's lifelong dream of someone in the family moving to the US. When I came to this country, I thought it would be a shame to waste those many years and hours of swimming. I decided that after teaching at Montessori all day, I would then teach some of my young students swimming lessons after school.
One day when teaching, I noticed someone in the pool teaching an infant how to survive in the water -
- A crucial lesson, as drowning is the number one cause of death in children under the age of four! It was from that moment on that I knew what I wanted to do for the rest of my life.
I was highly trained as a Survival Swim Instructor with Infant Swimming Resource (ISR), and taught for about 15 years. A few years ago, I decided to start my very own business doing it.
I have dedicated almost 20 years to saving infants and young children if they were to find themselves in a body of water. This passion of mine, which I do for 8 months of the year for almost 9 hours a day, is extremely taxing on the body.
Although just in my 50s, I began to notice that my body was fatiguing after just a few hours! I was even having trouble lifting the students out of the water!
It took my neighbor, Bonny, 3 years to finally convince me to join Club Pilates and I have been going almost daily ever since. Since my start in October of 2020, I have completed 218 classes!
I have noticed more strength in all areas of my body, especially my arms, legs, and core; and my balance, posture and flexibility have all improved.
What I didn't expect is how upbeat the staff are at both the locations I frequent, Wiregrass and Tampa Palms. They greet you by name as you walk in the door and always have a smile. All the instructors are extremely knowledgeable and give you modifications very quickly, and you never get the same class twice! I also enjoy seeing a lot of the same people in class and how we are so friendly with each other.
Another added bonus is the stress relief it has provided. If you are on the fence about joining Pilates, I suggest that you take a leap of faith and don't wait three years like I did. It really has changed my life for the better!
I like to tell people: I have a new friend, and her name is Pilates!
Written by Emma Grynbal, Member at Club Pilates Wiregrass and Club Pilates Tampa Palms