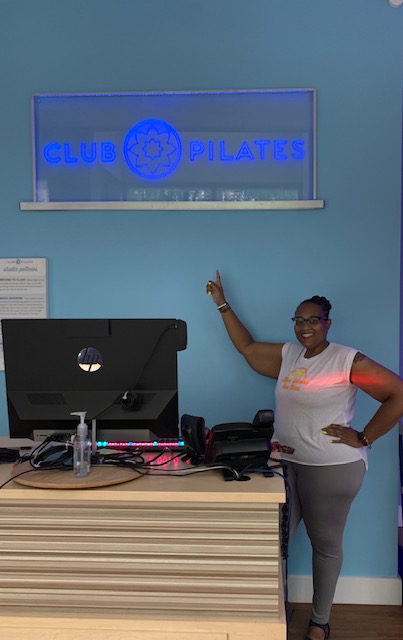 ---
I'm a proud Afro-Latina who hails from Southern VA. While I have lived in DC for the past 20 years, I still have a strong Southern accent and love it! I love to watch sports, and am a huge fan of the Washington Football Team, Nationals, Yankees, and Duke Men's Basketball! I'm an avid reader and lover of true crime podcasts and music. I do have a green thumb and have a successful urban garden of herbs and vegetables, am a skilled singer, and am known to bake a fruitcake that will have you loving it after denying it all your life! I'm a godmother, sister, aunt to 5 nephews, and mom to my rescue cat.
Among all these things, at 43 years old, I'm an autoimmune disease survivor and a recent lover of Pilates.
I am a Lupus warrior of 23 years. In addition, I have fibromyalgia, epilepsy, chronic migraines, and vertigo. My body is in constant pain, and you would think with all these illnesses, I would turn my head and say no to working out -- but ever since I tried a Club Pilates Intro class and loved every moment, that immediately changed.
In 2016, I had weight loss surgery resulting in losing over 100 pounds. My whole life I hated to work out.
After losing the weight, I noticed I had more energy, but I needed a workout that I actually wanted to do! That led me to Club Pilates.
I booked my membership instantly after my intro class, and have been an active member for nearly a year - since October of 2020! I have experienced so many benefits from Pilates. I am more flexible, and have noticed such an increase in my lower body strength.
Lupus affects my joints, skin, and brain; Fibromyalgia affects my muscles; but at Club Pilates, the instructors make sure to carefully modify the exercises so that I'm still able to participate and enjoy the class.
As far as classes, I really love Center & Balance. I look forward to attending on Sundays. It is almost as if it is the stretch needed to end and begin the week!
Something unexpected that I've experienced in my journey at Club Pilates? That I would go from attending 4 times a month, to 4 times a week! I can't get enough of Pilates!
Attending Club Pilates has been life changing for me.
I thoroughly enjoy the instructors, especially Robin. While I'm no pro, I do it because it makes me feel amazing! If you are ready to quit because you haven't seen results, don't quit! It's not about what you see, but about how you feel, and Club Pilates makes me feel marvelous!
-
Adina "Dina" Felton, Club Pilates Pentagon City member