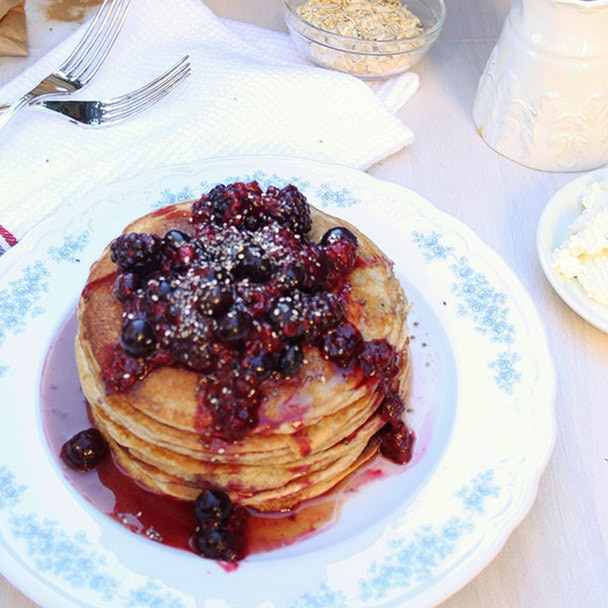 ---
These are no ordinary pancakes, they are a Sunday special! Incredibly light, fluffy & wheat free pancakes. Deliciously flavoured with cinnamon & vanilla powder.
Serves: 4
Time: 30 Minutes
Ingredients:
Pancakes:
1/2 cup organic almond milk
1 cup cottage cheese
2 whole eggs + 2 egg whites
1/2 cup organic spelt flour
1/2 cup organic rolled oats
1/2 tsp baking soda
1/2 tsp organic cinnamon
1/4 tsp organic vanilla powder
Topping:
1/2 cup organic maple syrup
2 tbsp fresh cream
1 cup organic frozen mixed berries (optional)
Method:
Place all ingredients in a blender and blend for 30 seconds or until the batter is fairly smooth.
Let the mixture stand while you heat a non-stick fry pan on medium heat.
Very lightly grease the pan with organic coconut oil.
Pour 1/4 cup pancake batter into the pan and cook for about 3 minutes, until bubbles form across the top of the pancake.
Flip the pancake to the other side and cook for another 1-2 minutes. Repeat for all of the batter.
Mix together the maple syrup and cream very well in a small pouring jug.
Heat the berries in a pan until they are warm and a juice has formed.
Transfer to a plate and drizzle the maple topping, berries and any other delicious extras!
Enjoy!