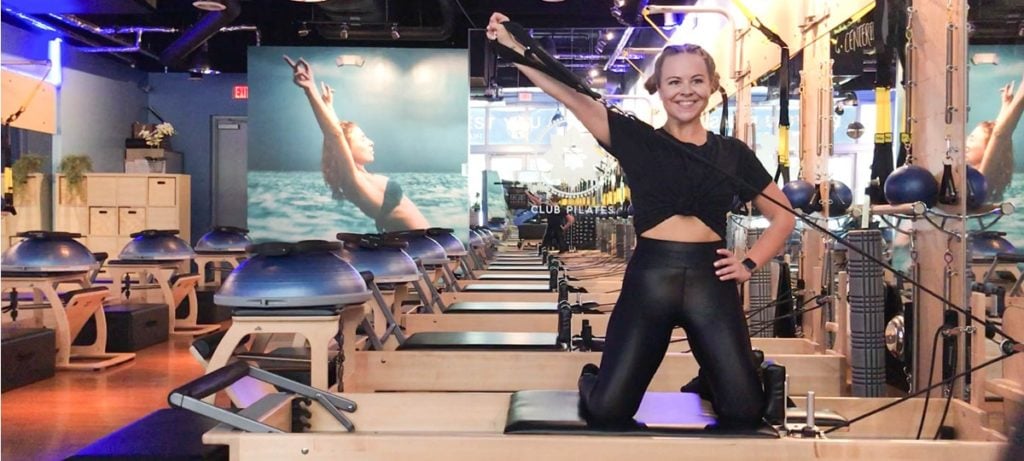 ---
Never tried Pilates? Try Club Pilates for FREE!
"To be blunt, I was looking for a way to make money that didn't require sitting and slouching all day.
I missed my days in the dance studio and was frustrated with all of the office jobs I'd tried (I hopped around a lot looking for my thing!). Having been a member at Club Pilates Brickell, I loved the friendly vibes of the studio and the vast variety of class types and levels. After I knew I wanted to transition into the fitness field, it was the bonus work in TRX, Barre, and TriggerPoint that won me over with Club Pilates. I loved (and still love) how limitless the possibilities are with all the tools CP instructors are given."
Now a fountain of positivity and Club Pilates instructor, Lorin Jetter was not always in love with her work.
Lorin came from a competitive dance background and a whirlwind of desk jobs. In high school she was dancing 40-50 hours a week (her first love), but that all changed once she shifted her focus to school and career opportunities. She bounced from a job at the Miami Herald to marketing for real estate to consulting and building websites, but none made her jump out of bed every morning excited to go to work. Working 8 hour days and sitting at a desk caught up to her (both mentally and physically), so she decided to dabble into the world of fitness and landed at Club Pilates.
After only 3 months at the studio, Lorin signed up for Teacher Training. She researched multiple TT programs, but the cost of Club Pilates Teacher Training is what sold her. Others were over 8-10K, while CP offered so many certifications including TRX, Triggerpoint, and Barre. Lorin completed the program in 8 months while working at the front desk at the studio to offset self-practice and observation hours. She lost 50 pounds in only one year and now teaches at 2 of the Florida locations.
"It sounds corny, but I never expected to be one of those people who loved their jobs.
I thought "job love" was a myth – now I'm always bragging about my career, how much fun I get paid to have, and include #joblove on all of my Instagram posts. I can honestly say that I look forward to going to work and spend my time off thinking about what exercises I'm going to teach the next time I'm at work. My coworkers are some of my best friends and I truly love what I do – I feel extraordinarily lucky every day to get to do this as a career."
Why would you recommend becoming a Club Pilates instructor to others looking to make a change?
"Club Pilates offers a really comfortable environment for learning to teach Pilates and, more generally, learning to teach in the fitness industry at all. I found that during Teacher Training, all of the Club Pilates Brickell instructors and the master trainer, Matthew, were so approachable and helpful that I rarely felt overwhelmed and never felt intimidated. The education process was so positive that I constantly felt reassured in my decision to switch careers throughout the duration of my teacher training." There is also room for growth at Club Pilates, and Lorin is thinking about becoming a traveling instructor and Master Trainer in the future.
-Lorin Jetter, Club Pilates Instructor, and proud dog momma.
Inspired to shift your career and start loving your work? Apply for your local studio today!