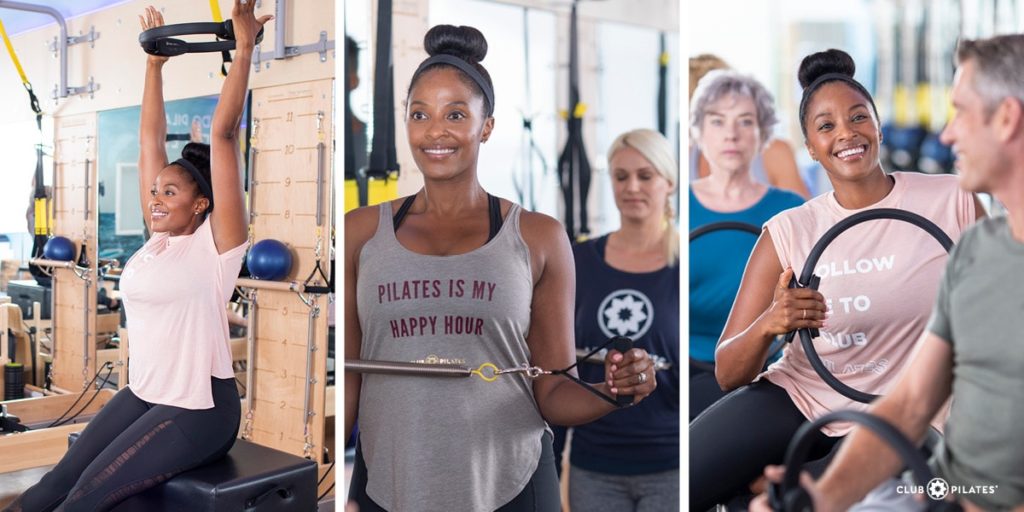 ---
From basketball to boxing to managing a radiology office, Marche' has found new physical and mental strength from coming to Club Pilates. Not to mention, a new career goal! "I was driving my kids to school one day and saw Club Pilates grand opening sign. I had taken Pilates Reformer before, so I just knew I had to join. I called the operations manager right away and became a founding member even before they opened."...

Since you're a HIIT workout kind of woman, what made you try Pilates?
I like challenging myself in multiple ways. I had always done high-intensity fitness (Basketball, Boxing and HIIT). I was looking for something that would slow me down yet tone and relax me at the same time. Pilates was just that. I find that I have to slow down and focus on the individual body parts I am working on while activating my core. I love the growth it has given me and how it relaxes me at the end of the day when I mix it in after a high-intensity workout.
You were drafted into the WNBA, you're into boxing, and seem to be all-around athletic – Do you feel that Pilates challenges you and your body?
Yes. It tones muscles that I never knew I had. It makes me focus more on my abdominal activation in order to do the exercises correctly. It has toned my abs, upper and lower body more than ever. I find that I also have imbalances and it really works on the weaker deeper muscles in my body. Due to the higher impact on the lower body from playing College Basketball, I have chronic hip pain and it has helped me strengthen my supporting muscles and core. I no longer have that pain!
Tell me more about how Pilates helps you after some stressful days as a manager at a radiology office!
Working in a high paced medical environment, the days can get intense, so it really helps ground me and creates a calmness I never had before. I tend to be a very anxious person with lots of energy so I love doing Pilates after a long busy day at work!
I walk into class excited about the opportunity to stretch, strengthen and relax. I get lost in the class because I get so focused on what's going on and I don't even realize it has been an hour when it's done. It leaves me relaxed yet physically challenged - I absolutely love it.
What is something surprising you've gained from Club Pilates that you didn't expect?
I never expected to be chosen to do the 2019 Club Pilates Photoshoot, I was actually home with books spread all over my family room floor studying for a board exam the following day when I got the email about member applications. I told myself "well I guess I should try" and quickly got something together and sent it.
I almost passed out when I got that call at work about coming out. I was so excited I couldn't focus on anything for like 2 days straight. It was such a blessing and an opportunity I never thought would happen.
How has it helped you to achieve more?
After doing the Club Pilates photoshoot I realized that I would like to pursue Fitness Modeling. I had such a great time and met such wonderful people. I loved the excitement of it. I am now working on perfecting my trade to hopefully do more photoshoots soon.
What would you say to someone thinking about trying Pilates?
I would tell them to DO IT. I have had several friends and co-workers sign up for Club Pilates at my club. No matter your fitness level, you will be comfortable and go at your own pace. It really changes your life physically and mentally like no other!