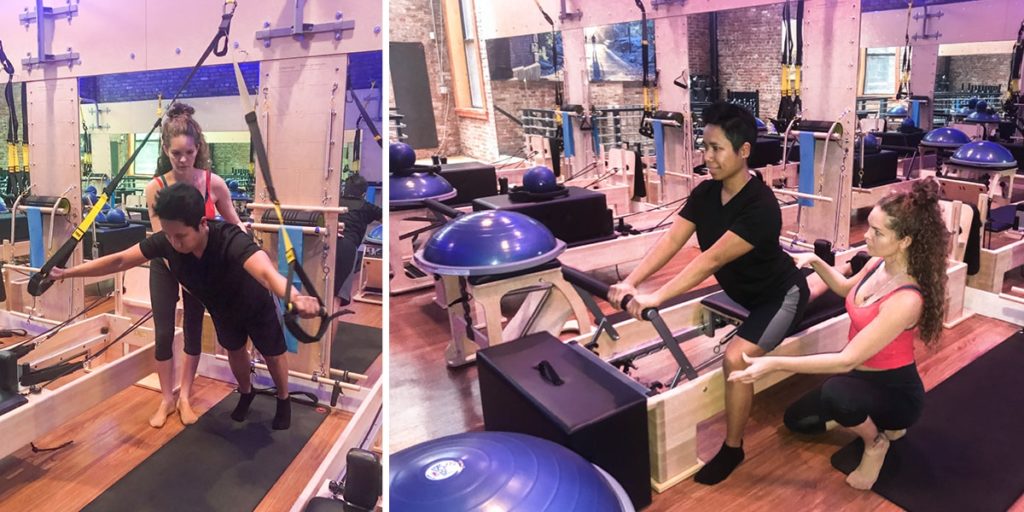 ---
I used to travel a lot for work and one day while running down the street trying to catch a train, I fell and hit the side my knee that caused a hairline fracture. During the wintertime my knee locks up, causing a lot of pain - this was very hard to tolerate. After my knee healed, the physical therapist gave exercises for me and also recommended Pilates to help my knee.
It was by mild coercion that I joined Club Pilates. Not from the studio, but from a friend who wanted to get back into doing Pilates. She needed a workout buddy and I, always willing to encourage, obliged to get a limited pack. Well, she pretty much had to drag me into the studio because organized classes have never fancied me since I enjoy solitary exercises such as swimming and gym workouts. I feel it becomes a competition amongst the students rather than self-improvement. So, my expectation when I joined was exactly that.
I had never been to a Pilates class before and didn't know what to expect. The Reformers looked intimidating.
Taking an intro class with my friend was a pretty basic representation of what Pilates was. I thought…If this is Pilates…its easy! Little did I know that it was the exact opposite. Instead of bulking up my arms and shoulder, I became toned. Abdominal strength has helped my posture. And glute exercises have diminished by back pain and completely rehabilitated my knee injury. Best of all, I'm in competition with myself. I measure how much progress I've done with every class.
Talisa, the instructor, made adjustments that catered to my knee, and after 2.5 months my knee was completely healed with absolutely no pain - even in those cold winter months! I used to not be able to bend my knee on the Reformer, and now I can. I can do so much more than I could before. My knee now feels as if it was my knee from 5 years ago!
What I really did not expect was how much I would love it.
I have tried different classes of different levels. Suspend is my latest conquest and I have to admit I am quite addicted now. It is the most challenging thing I have ever done, and every small accomplishment feels amazing. Pilates has also helped me relieve stress with my work in finance. In the past, I felt like I needed to muster enough energy to get me through late afternoon weight training. But Pilates is a low-impact workout which is relaxing. Also, I can feel improved blood circulation by breathing through the entire class. Exactly what I need to decompress at the end of the day.
Talisa has been there for me through my whole Pilates journey, she encourages me to do things I didn't think I could do. For example, I was curious about the CP Suspend class, but I didn't know what to do with the TRX…I didn't know where to begin! Talisa really made me feel comfortable and confident when I was learning and now, I love it! My friend and I do CP Suspend together now. I was the one who dragged her to the class! In the suspend class, we all know each other, I find it really fun. I prank the rest of those in the class by asking the instructor to do crazy things from the TRX videos I find off the internet. We end up all laughing and really end up having a good time.
Pilates has pushed me to the limits I dared not venture because I don't like change.
I am proud to say that I went from being a skeptic to an evangelist. Now I preach that change is good! I no longer go to the gym or swim. Furthermore, I am grateful to Club Pilates Tribeca for having a staff and instructors, especially Talisa, that truly care for their students' well-being and growth. It's a testament to how the studio is run. Pilates had made me a lot calmer. It clears my mind because of the breathing patterns. There's no pressure with weights like there is at the gym. Pilates has become my answer to what ails the soul and the body.
For those who don't do Pilates, I would just say, whatever it is that you're doing right now, I respect it, but if you want something that will compliment everything in your life, try Club Pilates. Using your own weight is the best exercise. The Reformer is there for you, just try it out. If you don't like it, you don't like it, but definitely give yourself a few classes before you make a decision.