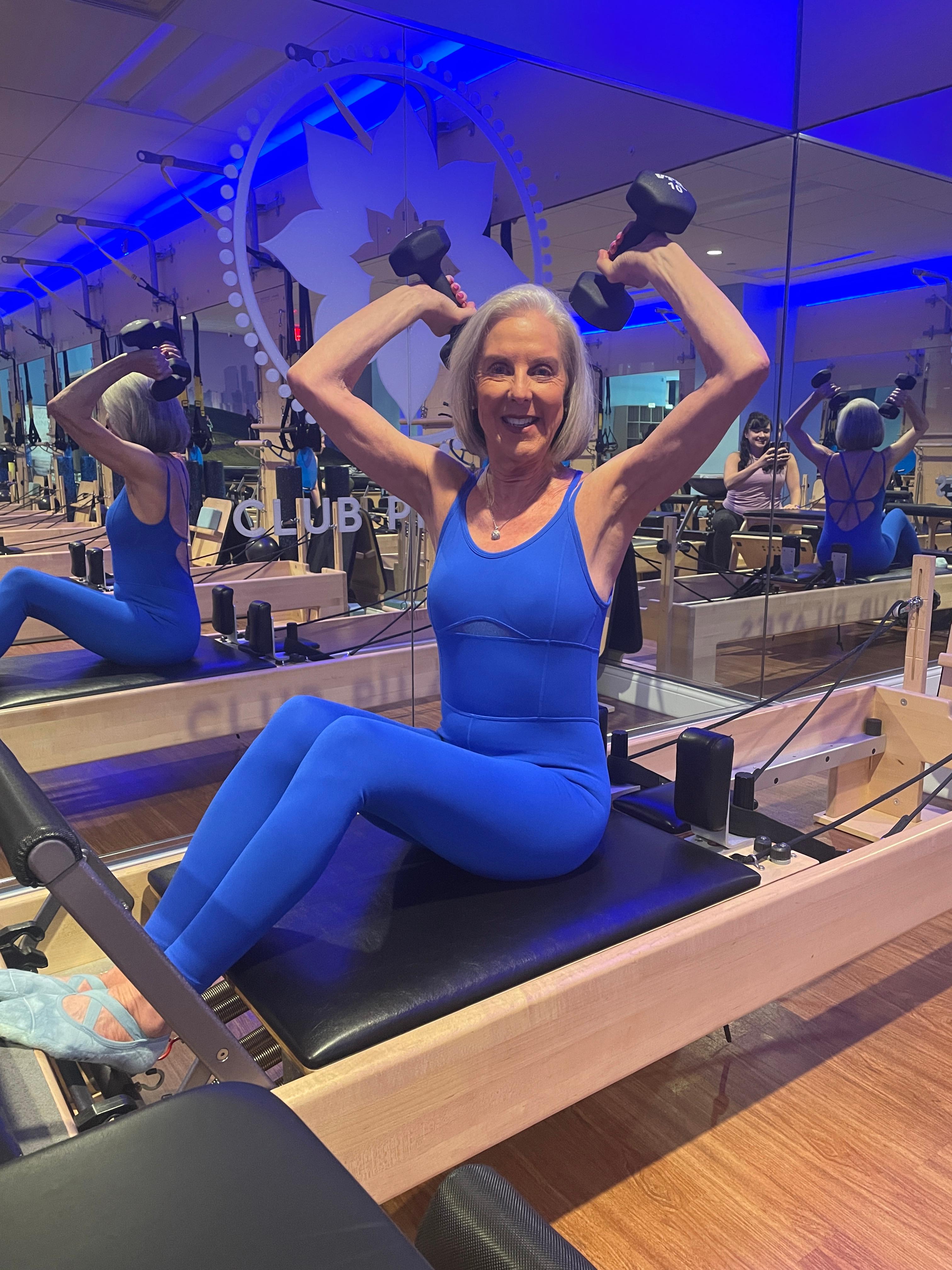 ---

I am a 72 year old widow originally from Richmond, VA but have lived in this part of NJ for over 8 years. I am fortunate to be in excellent health in part due to genetics, but for the most part because I am careful to take very good care of myself. I maintain a very healthy diet and have always been one to exercise consistently and regularly.

Actually, joining Club Pilates was a hard decision for me.
I was an avid runner for about 25 years and clocked in almost daily distances of 3 -5 miles per day. Of course, as it often happens when you run for years on a hard surface, I developed some knee problems. I had to have minor surgery on one of my knees and I just knew it was a matter of time before I injured the other knee, so I reluctantly quit running.
I started looking for other types of workouts that satisfied my need for movement.
First, I tried Yoga for about a year, but learned that it wasn't my cup of tea, so that was that.
Next stop was a full-scale gym with all the bells and whistles. I got the initial instructions on how to use the complicated machines and worked out daily for a couple of years, but that got old as my routines became boring. Plus, most of the time I was in the gym alone or did not know the other people to chat with.
Next on my agenda was Orange Theory, which I enjoyed for about 5 years. Despite being old enough to be most people's grandmother, I did, for the most part, keep up with the 30 and 40 year olds. However, after some time, I felt I was becoming limited on what I could achieve.
Club Pilates was my last choice. Admittedly, I dragged my feet for a few months, but finally went in for an into class. Prior to my class, I thought it would be nothing more than an easy stretching concept.
I ended up being very, very surprised.
Immediately after the intro class, I signed up for 8 classes per month, and after just a few weeks, I bumped up my membership to Unlimited. It was one of the greatest decision I have made.

The benefits are endless.
I have always had mild anxiety, and I found that Pilates is the perfect workout to ease my anxiety through using the breathing method while in movement.
Everyone knows that long breaths in and out have proven to relax you, but think about it for a second. Not only are you calming yourself down, you are also actively exercising! Pilates also helps increase flexibility and mobility, which are vital when getting older as they support optimal balance. Pilates offers all of these things and much more.

My favorite classes - and after 4 years and 1,837 classes, I have taken them all - are the F.I.T. and Level 1.5 classes. I love them all, and sometimes enjoy taking a level 1 as a "refresher". Using the TRX in class is fun too, and different.

Just two weeks ago, I went to my local hospital for a Bone Density for the first time in 3 years. I was astounded when I received the most unexpected news and shocking results.
My hope was that, best case scenario, my bones had either only deteriorated slightly or maintained the state that they were at 3 years prior.
Much to my surprise, my bones hadn't deteriorated at all, and my spine health had actually IMPROVED significantly.
When the doctor called with my results, he asked what was I doing differently, and I told him Pilates. He was thrilled with the overall results, but with regard the spine his response was:
"Pilates is the reason why - keep doing it."
How can I age three years, having changed no other variables in my lifestyle, but have improved my spine health? Like the doctor said, It's Pilates without a doubt as the doctor said.
Some of Pilates's claims include decreased joint pain and increased bone strength - and I am here as living proof.

All women and men who are reading this have absolutely nothing to lose by giving Pilates a shot. As with any exercise program, the more you do, the more you will see results. Core strength is inevitable as well as back strength. Your entire body will benefit, and you will visually see results in less than 3 months. Stay with it, and hopefully when you are 72 years old you can share a success story as I have done with you now.

Pilates is not just for people in a certain age bracket. Men and women, kids in their late teens, young adults, middle aged individuals, and people my age are all members at Club Pilates.
If you want workouts with weights, take a Pilates class that uses weights and bands. Want your heart rate to go high? Take a Cardio Sculpt class. You like TRX bands? They offer that too with Suspend. The F.I.T. class is like bootcamp. For mental restoration, take the Restore or Center & Balance class types. There are so many more classes to choose from - you just have to decide what you need. It's all under one roof! I mix them up every week so I get a full-body workout.
I have made so many wonderful friends. Everyone here come for the same reason - to better their bodies and minds; and we cheer each other on! I go on average 5-6 times a week and my classmates are like family. I am going to be moving to North Carolina in just a few months, and look very forward to joining a Club Pilates there as it is such a major part of my life.

Whatever direction you go in life, just keep moving, eating well, and laughing!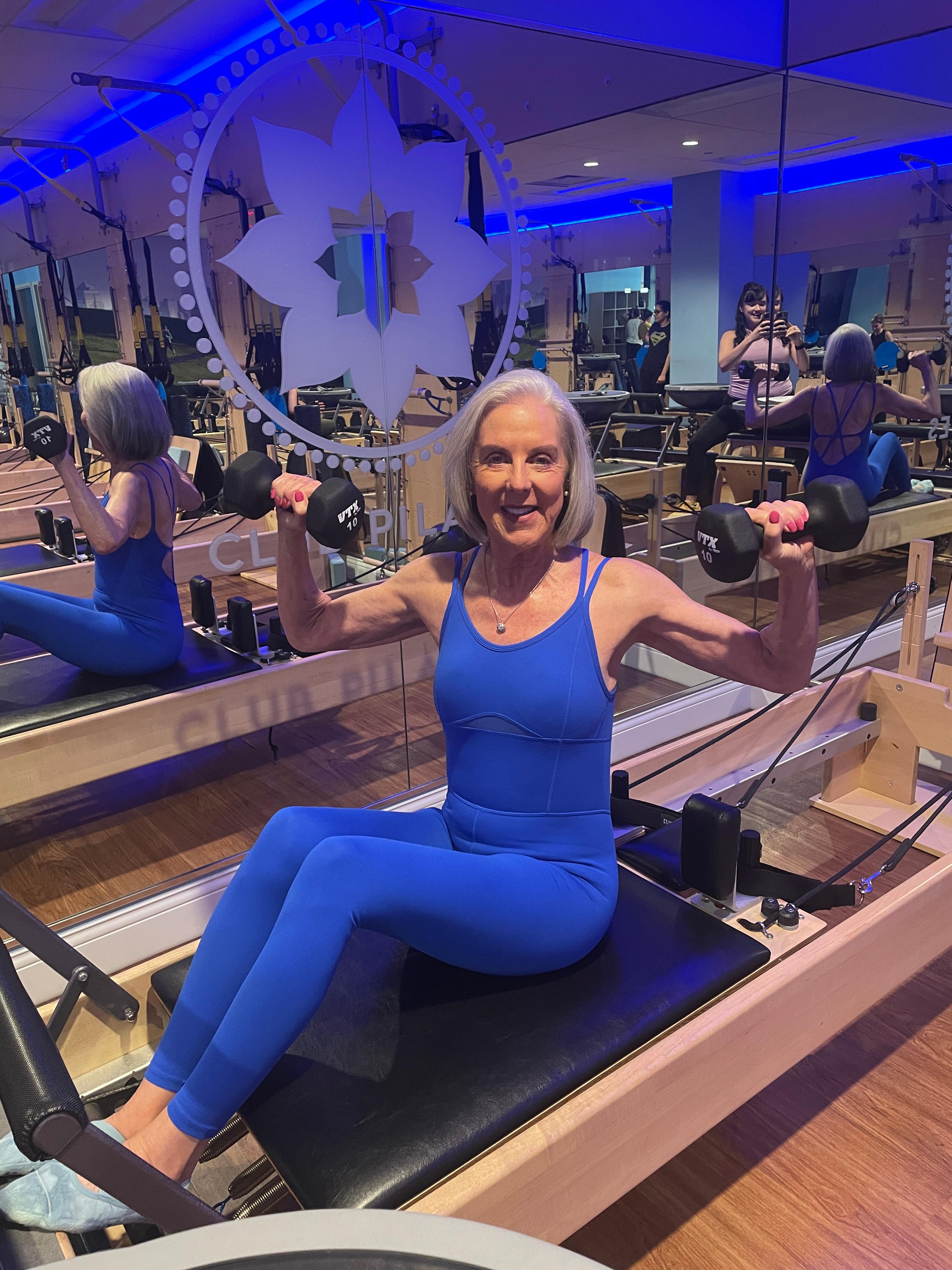 Written by Lynn H., member at in New Jersey