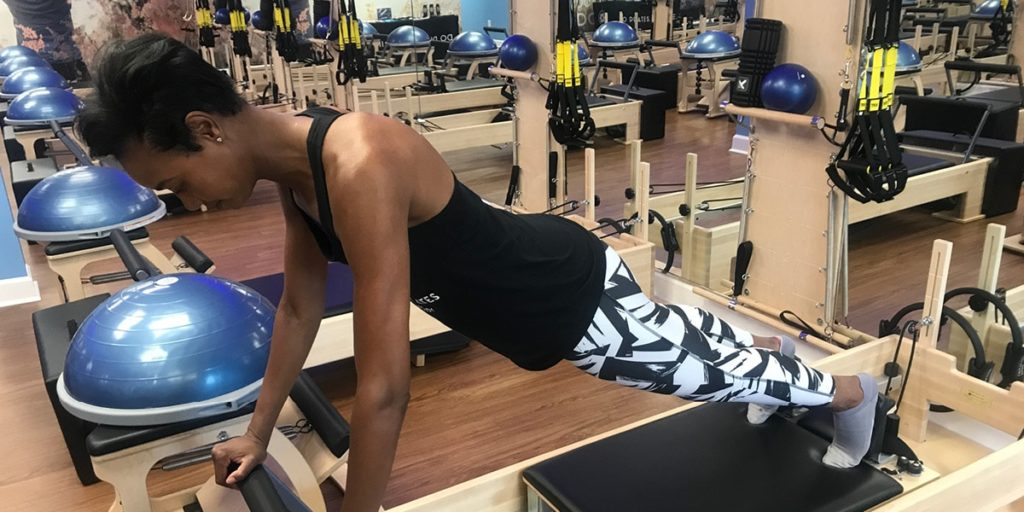 ---
From high school injury to WNBA professional to Club Pilates employee, this success story is unlike any other:
"I actually stumbled into Pilates in high school, when I had 3 degenerated discs in my lower back due to my participation in basketball (the amount of contact, tumbles and falls I had really taken a toll on my body). I opted not to have surgery on my spine, and instead went with the chiropractor/physical therapy route to heal my back pain. While I was sidelined for about 2 months, it was then that I first realized how important core strength was for everyday movement, and especially for optimal athletic performance.
My doctors recommended that I do lots and lots of core work to strengthen this area of my body if I ever wanted to get back to competing on the basketball court again. My mom bought me a Pilates abs video and I would lay on the floor in front of the tv and do that video religiously. I was determined to get back on the court to play ball again and I knew it was either this or surgery. The amazing thing is that I immediately began to notice a huge difference in the way my back felt when I stayed on top of my routine, so it didn't take long for me to buy into the benefits of Pilates.
I eventually returned to the court and finished my high school career as the Player of the Year in the state of Ohio. I went on to play collegiate basketball at the University of Florida and upon graduation, was drafted by the Washington Mystics in the 2001 WNBA draft. I continued playing professional basketball for 7 years throughout Europe and Asia while managing my back pain throughout the process. I've tried numerous therapeutic remedies in the different countries I lived in including China, Bulgaria, Greece, Spain, Croatia, and Iceland. However, I credit the exercises I learned through my Pilates routine for getting me through my entire athletic career. A natural next step in my career was to transition into sports & fitness management and health coaching.
I've had the pleasure of managing several fitness clubs prior to coming on board with Club Pilates, but when this position popped up, I was very eager to jump on board. I enjoy doing work that I believe in, and my personal experience of physical transformation with Pilates fuels me to share its benefits with others. I'm enjoying getting to meet our members and helping them reach their physical fitness goals on a daily basis. I appreciate what Club Pilates is doing in the industry by finally making Pilates affordable for everyone!"