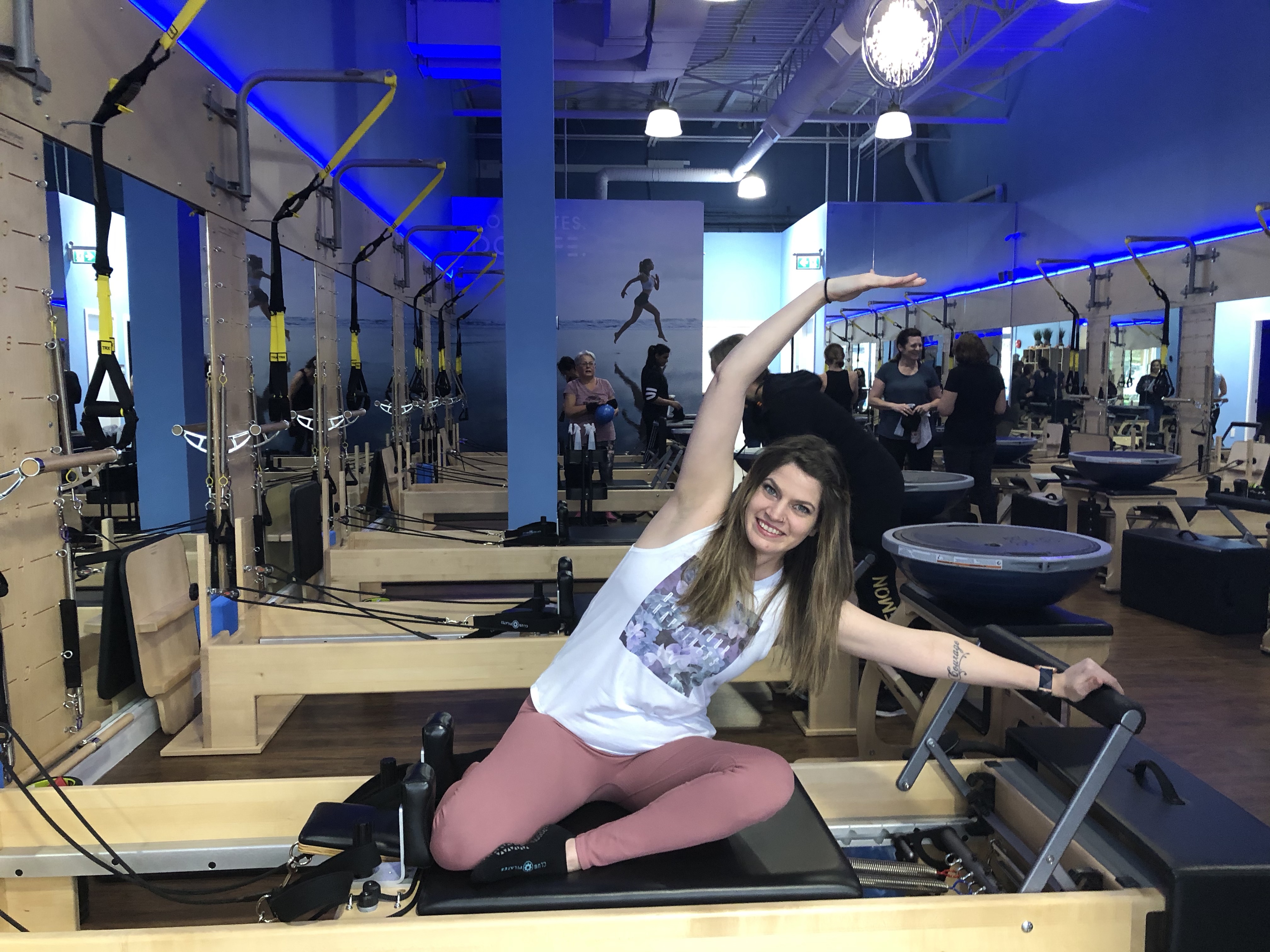 ---
Before I started Pilates, I did not have a consistent fitness routine. I am a member of a gym, however doing cardio and using the work out machines often left me feeling a lot of pain and discomfort due to my kidney and I wouldn't be able to go back for days, sometimes a week. I typically run on a treadmill, elliptical, or perform a 30 minute hit workout while also using all the weight machines provided.
My boyfriend Michael knew that I wanted a fitness routine in my life, but I felt like I wouldn't find one I could make part of my daily routine. At the end of March 2019, he decided to sign both of us up for an Intro class at Club Pilates South Surrey.
My first class I found had its challenges both mentally and physically.
I had no mind body connection and my supportive muscles were totally weak! I had been in daily hip and back pain due to my hydronephrosis (swelling and water retention of the kidney). I do remember thinking, wow this footwork is hard! Which I now find to be a warm up. I was absolutely hooked from how my overall body felt after my first class and just how effective the exercises were.
My kidney issues were progressive, they started with recurrent kidney infections and kidney stones. It then over time turned into hydronephrosis (swelling and water retention of my left kidney and ureter) which left me going through various surgeries. It often left me feeling nauseous and in a lot of pain, especially in my lower back and hips. The first surgery was pre-Pilates (my ureter was re-implanted to try and allow my kidney to drain.) I had a brutally hard recovery after this surgery. I was unable to properly care myself for weeks. My recent surgery - having my left kidney removed on October 1st 2019 - was about six months after I started Pilates and my recovery was a breeze compared to the past. I was able to get back to classes five weeks post op and I was so excited as soon as I had doctors permission to attend again.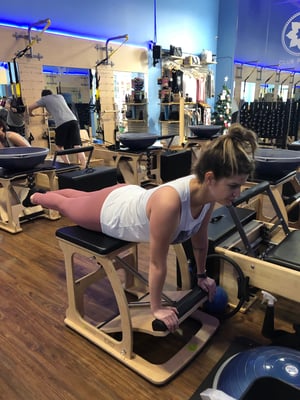 Before my surgery, I was taking level 2 classes and feeling very accomplished. I loved the challenge of the choreography and control the higher classes require. Since my surgery, I have had to go back to basics but recently I have moved back into level 1.5 classes and once again feeling so balanced, strong and accomplished!
I am challenged in each class.
I feel like the instructors ensure you have a mind-body challenge as well as a physical challenge in the classes offered. They start with a basic exercise and continue to build, encouraging you to challenge your body to where you are able to maintain form and use control. Even the restore class has its challenges, rolling that facia and trying to breath can be hard sometimes! The ability to maintain proper form and do the exercises with control in itself can be challenging.
My kidney issues had me in pain constantly and that becomes extremely tiring on a person. Pilates gave me a positive focus, it gave me small goals to achieve and it gave me the ability to use my mind more positively.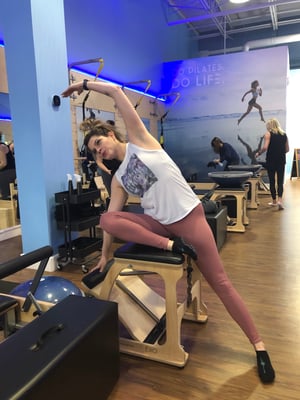 When I wake up in pain or discomfort instead of thinking "I feel like garbage why am I getting up" I think "what time am I booked for a class today." I went from feeling bad for myself to thinking about solutions. I feel it has helped in situations that are not just physical for me to take a minute to breathe deeply and think clearly.
Physically It helps ease any low back and hip pain that I got so used to because I woke up in that pain, went to bed in that pain it was always there even though I saw my Chiropractor multiple times a month. I wake up and feel good!! My chiropractor has also noted I have more control over my body and an overall improvement in my spine. It has strengthened my body in ways that counteracts all the negative things daily life can do.
Overall, Pilates has improved my balance, flexibility, alleviated back and hip pain, helped my body recover from surgery more quickly than previous surgeries, given me better posture, made me stronger than I ever was, and I've started to get definition in places I have never had before - including my abs!
I feel taller, stronger and happier than when I started Pilates!
One goal I had, though it may seem small, I can touch my toes while keeping my legs extended! I was never able to do that before I started Pilates.
I personally am so passionate and in love with Pilates because it's available to anyone and everyone at any stage of your life, and it is an intelligent form of exercise. You strengthen the stabilizing muscles, balance your body, stretch and get a full body workout that even in a group setting can be modified or have variations added for how your body feels that day. It's great for people who are extremely athletic, as well as people suffering from illness or injuries.