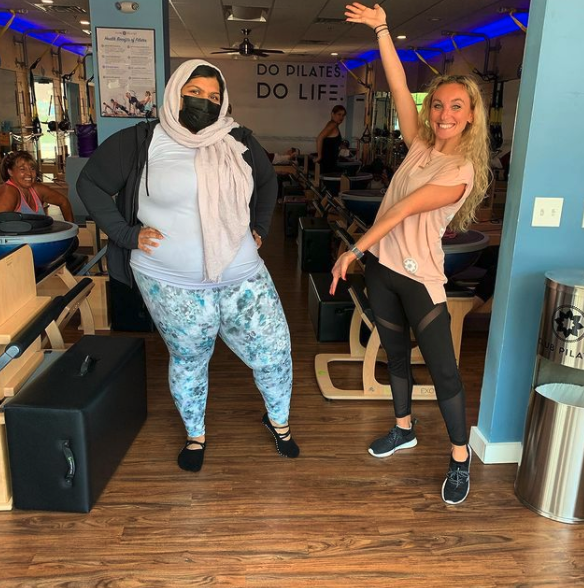 ---
Welcome to the 100 Club, Dr. Fareeha Amjad!
Dr. Amjad has been a member of Club Pilates Metuchen since just February of this year, and has already hit her 100 class milestone just months later! She has remained dedicated to attending class multiple times a week and is doing incredibly well, says her studio staff.
Her family and friends were so impressed with her results, they joined the studio as well!
Here's what she had to say about hitting the 100-class milestone:
I joined Club Pilates Metuchen after I saw an Instagram ad on my feed. Between lockdown and suffering with both hypothyroidism and PCOS (polycystic ovarian syndrome), I was feeling extra tired and slumped.
I was tired of feeling tired, and felt embarrassed being out of breath from walking up a flight of steps. I wanted strength and flexibility without running mindlessly on a treadmill or spending hours on an elliptical.
I can't express how many improvements I have seen in my body since joining, inside and out! I have so much more energy throughout the day -- I feel like I vibrate with energy!
I have lost 15 lbs so far, and I am so much more toned now. Most importantly, I can't even believe all the things my body is capable of doing. I went from not even being able to put my legs in tabletop position at all, to now trying out all these crazy progressions. I enjoy various types of classes, although my favorite classes so far are Cardio Sculpt and Center and Balance.
Everyone at my studio is so loving and accepting! I never liked group classes before because I was self-conscious, but with Pilates I feel safe --
you're kind of just laying on your Reformer, staring at the ceiling, minding your business and doing your thing! The instructors are so accommodating as well. I remember in the beginning I had a limited range of motion, so my instructors Adina and Nicole would always come by my side and help adjust me till I got it right, without making me feel like I was incapable of doing something. They're so supportive and really push you to be the best version of yourself and I love them for that!
My goal is to hit 250 classes -- I am on my way!