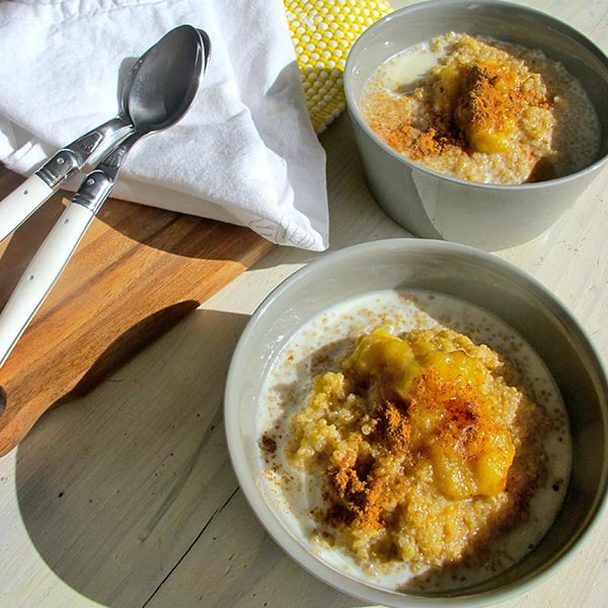 ---
Is there anything quinoa can't be used for?! This is a deliciously warm quinoa porridge using organic coconut milk, and sweetened with maple syrup.
Serves: 3-4
Time: 20 minutes
Ingredients:
1 cup organic white quinoa
400ml organic coconut milk
2 cups organic almond milk (or other plant-based milk)
2 organic bananas
1/3 cup organic maple syrup
1 tsp organic vanilla powder
2 tsp organic cinnamon powder
Method:
Thoroughly rinse the quinoa with water through a sieve.
Combine quinoa, coconut milk, plant-based milk, vanilla and just half of a teaspoon of cinnamon into a saucepan.
Add most of the maple syrup, reserving 2 teaspoons aside for the caramelized banana.
Bring the quinoa to a boil, then reduce heat and simmer until most of the liquid is absorbed and the mixture is a nice consistency.
Meanwhile, mash up the bananas and add to a fry pan with 2 teaspoons of leftover maple syrup.
Cook bananas on medium heat for about 1 minute, or until the mixture is combined and broken down.
Serve the warm quinoa in bowls and top with caramelized banana. If desired, add extra milk to serve.
Dust with remaining cinnamon powder over the top & eat up!