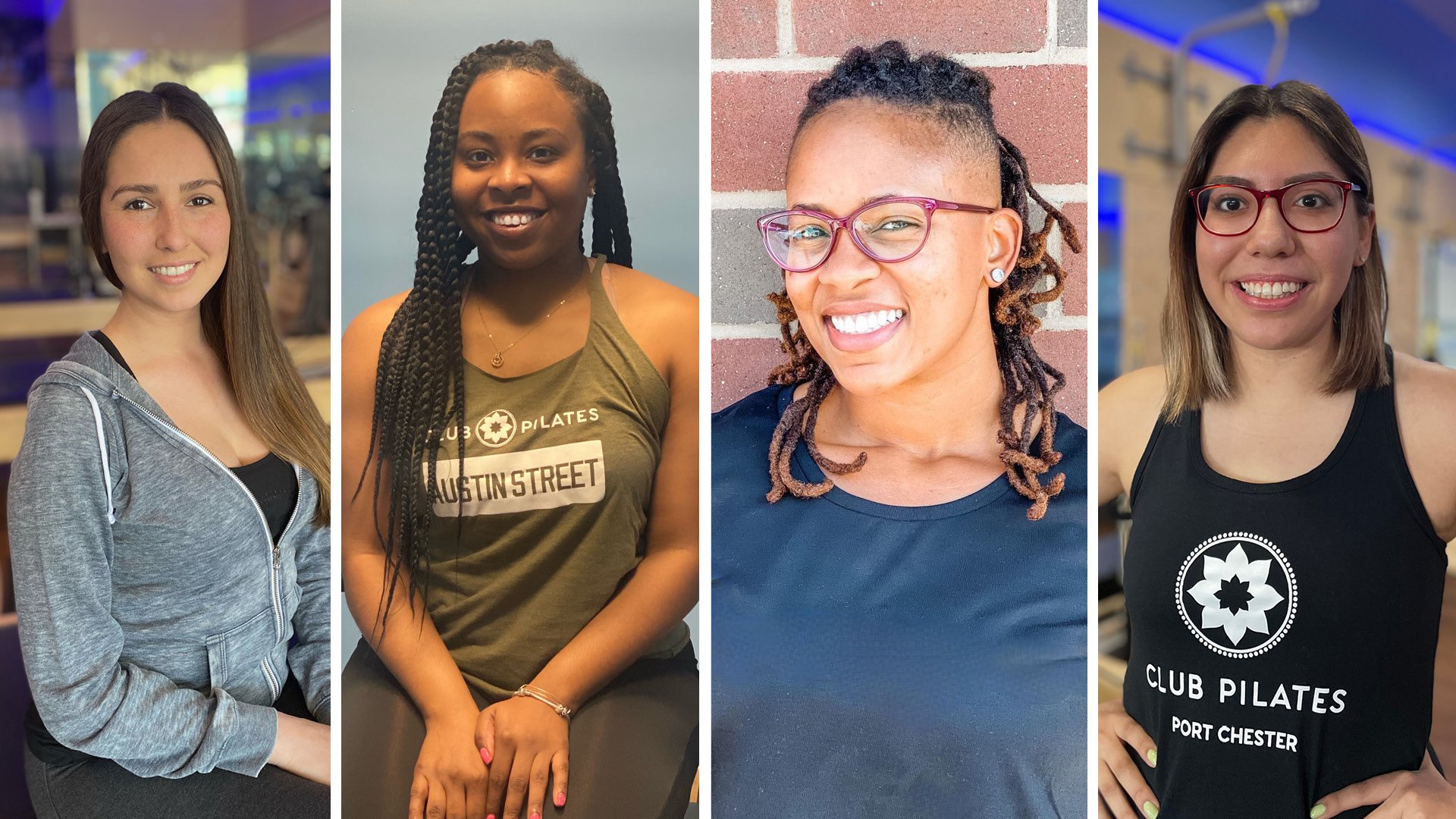 ---
In an effort to continue to create more opportunities within diverse communities, Club Pilates is proud to award four passionate individuals in the 2021 Spring Diversity Teacher Training Scholarship program.
Hosted by Club Pilates owners in NY, VA, and TN, join us in congratulating Isabel, Neykia, Rovina, and Susana, who share the passion to make Pilates accessible and achievable for everyBODY.
Our aim is to make Pilates more widely accessible to people within the BIPOC (Black, indigenous and people of color) community as we believe that Pilates advocates and fans alike should be a reflection of our everyday society.
Scroll through to read a bit from this year's wonderful TTs-to-be.
Why do you want to become a Pilates Instructor?
Isabel: I want to become a Pilates instructor so I can help change and improve other people's lives. I want to inspire and motivate others.
Neykia: I've wanted to become a Pilates instructor ever since I was first introduced to the discipline by my good friend Maggie, Newport News CP GM. Overall health and wellness is incredibly important to me as I'm a professional fitness competitor and certified life coach. Life is all about balance. What better way to achieve balance than with Pilates? Here is where you can release the need to control any outside forces in life and focus on the one thing you can control, YOU! With every breath and every movement, you're invited to allow instead of resist. Balance and control, in harmony.
Rovina: I want to become a Pilates instructor because I know the changes that Pilates has made me feel mentally and physically, and I want more people to experience those same changes. I want to be a part of habits that people can instill for a lifetime, in and out of the CP studio.
Susana: The principles of Pilates and the Pilates community have deeply affected the way I lead my life. Pilates empowers me and I've been able to transfer that strength across all areas of my life. I want to be an instructor so that I can empower others to lead a physically and mentally strong life inside and outside of the studio.
What does diversity mean to you?
Isabel: Diversity to me means bringing all ethnicities, cultures and beliefs together to create a safe and open minded environment.
Neykia: Diversity is super simple in my eyes, no need to complicate it. The word diverse simply means differing from one another. There are no two people completely alike in this world, even twins! That's what makes our life experience so colorful and exciting, there's always something new to learn and we can truly learn from one another if we remain open and allow the exchange. Why do we love rainbows so much? Because every color is so very different and yet they come together to create a beautiful, miraculous natural phenomenon!
Rovina: Diversity means shared amongst multiple identities. The more diverse anything is, the more it can be shared with others regardless of age, sex, sexual orientation, socioeconomic status, race or physical ability. Diversity within Pilates would mean seeing more people like me have access to Pilates and understanding what Pilates actually is.
Susana: To me, diversity means recognizing individual differences and embracing those differences to reach a mutual understanding of inclusion. It's important to celebrate what makes us unique and acknowledge that our perspective is powerful and brings value to our community/society.
What has your experience been with Club Pilates, and what are you most excited about with the Teacher Training program?
Isabel: My experience with Club Pilates has been nothing but inspiring with the members I have interacted with. I have seen all ages, levels, and physiques, which makes me excited about taking this teacher training program to continue to touch and inspire others.
Neykia: My introduction and experience with Club Pilates thus far has been incredibly rewarding. The staff as much as the members are genuinely kind individuals who all are coming together in an environment which enables personal growth as much as it encourages connection and community. In the current world environment, connection is ever important to one's well being. Club Pilates has that!
Rovina: My experience with Club Pilates has been amazing, I learned so much in a short amount of time and I had the support from my leaders to open my eyes to the endless opportunities in Pilates. I'm most excited to learn how to use EVERY SINGLE apparatus, and to teach the class that everyone wants to come to!
Susana: My experience with Club Pilates has been all about inclusion and support. I remember how nervous I was the first time I got on a reformer, and all the reassurances I received from studio instructors and staff. With Teacher Training, I'm most excited to further my understanding of the "why" behind Pilates exercises and to continue to challenge myself by learning some advanced moves.
We understand that you are a current employee and your TT program starts in June - how exciting! If you could tell someone new to Club Pilates about the brand, what would you say?
Isabel: Club Pilates is an inspiring environment, all members are supportive and motivators to each other. We have seen that age is just a number and there are no limits to a healthier and better life. We are all here to inspire one another.
Neykia: If I could offer one golden nugget about Club Pilates, I'd say that Pilates is truly for everybody, every person of all levels of ability. It's a super tailorable form of physical fitness which provides an opportunity for physical growth regardless of age, activity or fitness level. Pilates offers options to customize your fitness regimen with different types of classes and a myriad of equipment at your disposal. I wouldn't take my word for it though, you can easily go to the Club Pilates nearest to you and try it out at one of the free intro classes!
Rovina: Pilates has made me feel incredible mentally and physically, and I want more people to experience those same changes.
Susana: If you're new to Pilates or group practice, know that everyone at your home studio - instructors, staff, and classmates - are rooting for you. Embrace the support of that community and remember that you're progressing with each class you take.
Share your story with Club Pilates Teacher Training on social media by tagging Club Pilates.