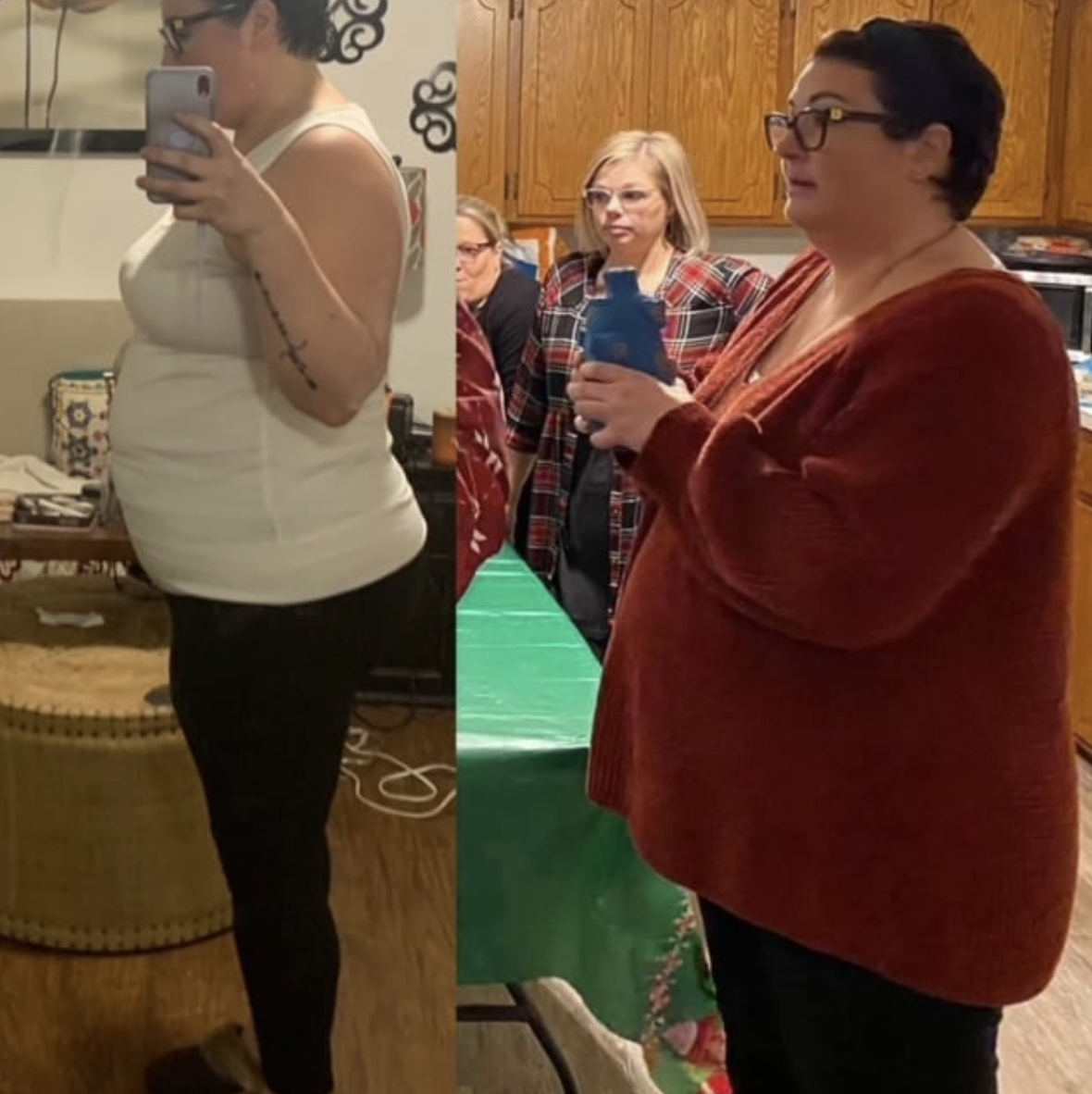 ---
My Pilates journey was prompted by a picture I saw of myself back over Christmas - I was shocked.
I was knocking on 300lbs and didn't realize it. At the beginning of January, I made the decision to change my diet and what I put in my mouth. After just a month of healthier eating, I really felt compelled to start moving my body more. I got a stationary bike for Christmas, but that dang thing was hard and hurt my toosh. I remembered having seen several posts on Instagram about Club Pilates, and I have always been interested, but so afraid that my size would keep me from being able to participate, let alone the shame and fear of embarrassment. I finally made the decision to at least just try an Intro class. Jacie was my instructor. She made me feel safe and secure in our time during the intro class.
Any time I tried workout programs in the past, I'd end up hurting myself…
...and then was knocked down harder than when I started, of course leaving me feeling more defeated than ever. I have had bad back problems for 19 years (during and after my son's birth). My weight had also affected my knee, to the point where the doctors were talking about surgery! My knee hurt so bad that I couldn't walk up stairs, or walk at all for very long - therefore adding more weight to my body due to lack of movement.
Two main things about my Club Pilates experience got me hooked.
One: Jacie and the other instructors! They made me feel safe and accepted. Two: the movement. The movement wasn't painful, but instead felt great! That was a first EVER for me.
Less than a month in... I WAS HOOKED!
I started on the 8x a month program, thinking that twice a week would be more than enough. In the past, jumping in too hard/fast on a workout plan burned me out quickly. I changed my plan to unlimited as fast as I could so I could attend more classes. I started with the center and balance class, then the reformer flow, then reluctantly the cardio THEN EVEN MORE RELUCTANTLY the restore class. I wish I could say I have a favorite, but I just can't choose. My body benefits from EVERY class and EVERY instructor. THEY ARE ALL MY FAVORITE NOW!
Besides the perk of weight loss, my core is stronger than it's ever been, my back is stronger and doesn't hurt anymore - only muscle soreness, no pain!
AND the best news - NO KNEE SURGERY NEEDED!
I can climb up a staircase, carry in a case of water from the car, and skip around the grocery store now! I have so much more energy! I sleep so much better! I suffer from anxiety, depression and worry, and even though I've heard "mind-body-soul" so many times, I never really understood what that meant. Now, I get it. Now I FEEL IT! My body, mind, and soul get restored every class I attend.
I no longer dread grocery shopping due to lots of walking and lifting.
I have more energy to clean my house and take the dog on walks. I'm happier and more positive. At work, I'm more productive than I have been in months. My posture has improved greatly- i'm losing that hunchback knot on the back of my neck I am so thankful I took the courage to attend that Intro class with Jacie. Every single instructor is absolutely amazing, kind, encouraging and fun - all while making sure I don't hurt myself. I always feel welcomed and never embarrassed.
Club Pilates has literally saved my life.
The picture on the right was taken at the end of December. The picture on the left was taken most recently. I'm down 25 lbs. I still have a long way to go, however I'm stronger, have more energy, sleep better and move so much better than I have in years. I attend classes 3-4x a week. I'm the perfect amount of sore - never miserable. Every class is different, but always amazing!
Written by: Suzanne Hamlin, Club Pilates Edmond member.