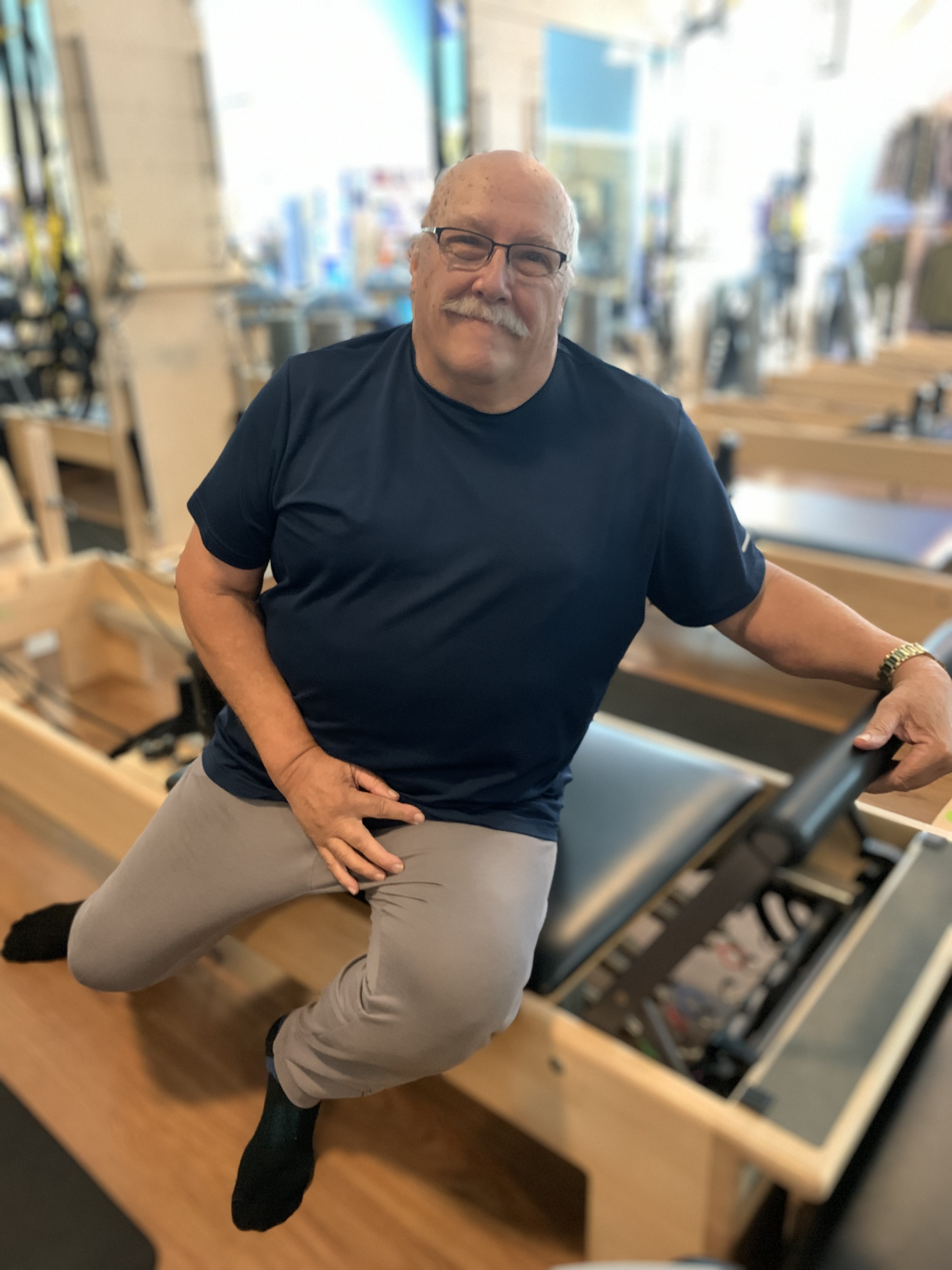 ---
Tell us about yourself!
My name is Anthony, or Tony. A proud longtime resident of my wonderful neighborhood of Tustin, California, I am one of the first group of students to graduate from our local high school. I served in our Country Armed Forces and I am a three tour Vietnam Veteran. I was assigned to Naval Squadron VF 151 a F-4 Phantom Fighter outfit aboard the USS Midway, which is now a museum down in the San Diego Bay. After Naval Service, I made a living working in the Heavy Equipment Business for Caterpillar, and I have been most blessed and was able to retire a few years ago - which I am delighted to say is a magical time of my life. I'm now in my seventies, have a large family, and am very proud of my seven grandsons.
What brought you to Club Pilates ?
I had an existing regular cardio and weight lifting regimen, which I still do three days per week. My friend mentioned Pilates might be a good way to stretch as well as strengthen my core, so I took advantage of their invite and decided to take an intro class.
What benefits have you experienced from Pilates?
Seeing that I am over 70, Pilates has helped keep me healthy and mobile - I want to enjoy all life has to offer. I have plans to travel and share my time with grandkids and loved ones, including through activities such as hiking, fishing, swimming, traveling all over California to cycle, and more. Club Pilates really has kept me in shape so that I am able to do all of that. Last month I was able to ride the Monterey Coast and Yosemite.
My breathing has improved. I have now incorporated Pilates breathing into my cardio and bicycle workouts.
I have found that many people take balance for granted. I have many friends that have fallen down, none of whom do any balance exercises. Through Pilates, my overall balance has improved, which I really notice when bicycling, Now - let's talk about stretching. I can move muscle groups that I haven't used for years, and every every month I can bend a bit more and more.
Do you have any favorite Moves?
I love Bridges, both on floor or on reformer! When in bridge position, I really focus on contracting my abs, rolling my spine slowly, stabilizing my hips, and keeping straight posture. I now use these techniques at home in the early morning. I also enjoy TRX straps. The more I use it, the more I like it.
What is something you didn't expect about your experience?
I always used to think pilates was a chick thing - just for women or girls, or just for young people. Wow, was I wrong. I now highly recommend this activity to all my friends and family. You're never too old to start! I really look forward to coming down to the club, where I have met several new friends and very much appreciate all the staff.
I have to give a BIG shout out to Lori - what a great instructor! She has such awesome talent, and I'm always amazed of her knowledge of the human body. She really helps old Tony.
What would you tell somebody about pilates ?
Just do it! You will be glad you did - why not improve your life?