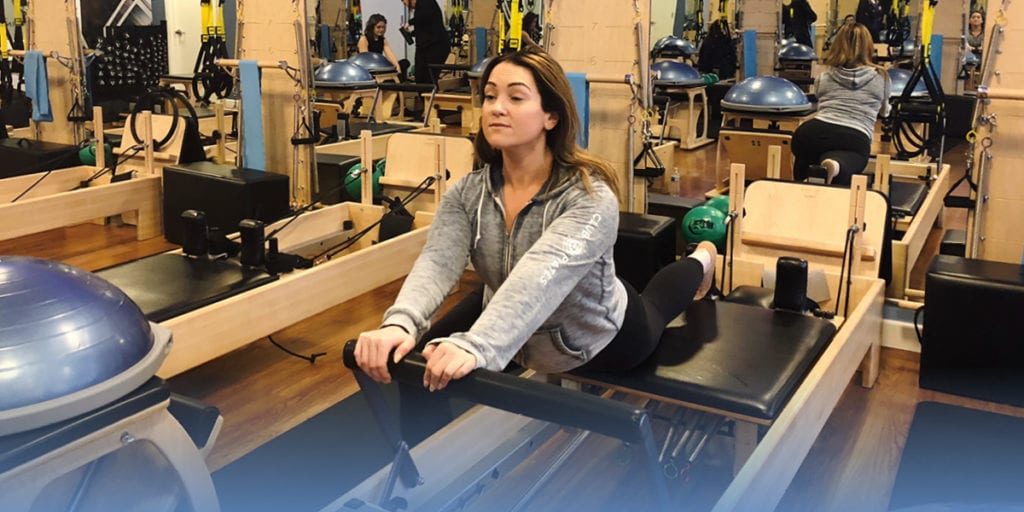 ---
"I won a two-week free Club Pilates membership at an event I attended in November, 2016. When I signed up for my first class in February 2017, I was both excited and a little apprehensive. I had read about reformer classes and had always wanted to try one, but I was incredibly nervous and intimidated by this intense looking machine. From the very first moment I walked into the studio, all my concerns dissipated. Everyone was incredibly warm and welcoming, the instructor knew it was my first time and made sure I was comfortable throughout the class, and I was introduced to this whole new world of fitness that was nothing like I had ever experienced. Before I even walked out the door, I had already booked my next class and I knew…I was hooked.
The first thing I noticed about taking Pilates, was actually how sore I was in areas that I had never felt before! Even after my very first class, I had a hard time blow drying my hair the next morning! It really let me know that Pilates was helping to work so many different areas of my body. Even after only a few weeks of classes, I noticed how strong I felt and was able to see muscle tone and definition. It was really exciting to find a workout that I loved so much, while seeing improvements in my body so quickly!
Nowadays, I jokingly refer to Club Pilates as my second home. I am usually there between 4-6 days a week, and since joining 14 months ago, I have taken over 270 classes! The improvements and changes in my body have been incredible. I have lost weight, but more importantly, I have developed some serious muscle and can see definition in parts of my body that have never been toned in my entire life!
There are so many things I love about coming to the studio. Ruth, our general manager, is the best. She and the other front desk staff are so friendly and welcoming every time I walk in. All of the instructors are amazing and have their own style, which is great because it provides a variety of classes you can take every single day. Mostly, the studio feels like a little family and there is nothing I look forward to more than coming in, putting my phone away, letting go of the day and focusing on class and being present in the moment.
Even though I aim to take 4-6 classes a week, I am still new to Pilates compared to others who have been practicing for years. I really enjoy coming to class and trying to push myself further than where I was the day before. There are certain moves that I couldn't do when I first started coming to Club Pilates that I now excel at. Teaser Tuesday is my absolute favorite! Pilates has become a part of my life in so many ways, and aside from the incredible health/physical benefits, it provides me with an outlet to let go of stress and to put a bad day behind me. I leave feeling so energized and calm every day.
Now, I can't imagine my life before I joined Club Pilates!"
- Club Pilates Member, Jennifer Rottner