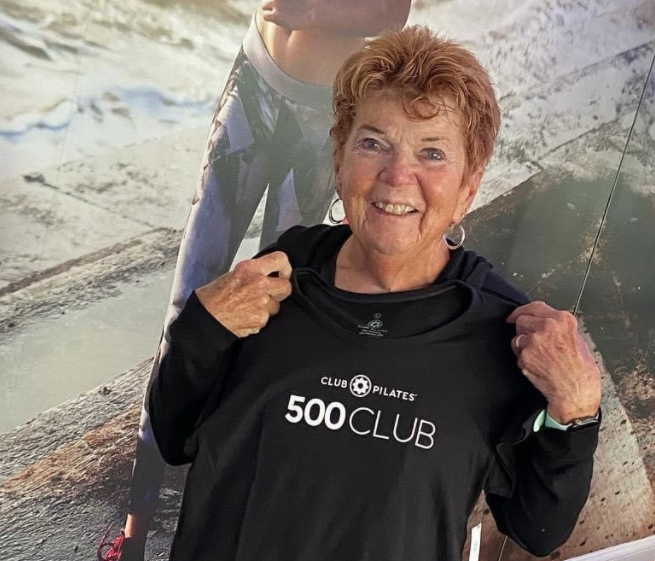 ---
Pilates, combined with my passion for golf, are two very big parts of my lifestyle.
Currently, I live in a Golf community, and for the last one and a half years I have been playing 18 holes of golf every day. (Unless it rains - and then I am doing an extra Pilates Class!)
Rewind to July 2018, which marks the beginning of my Pilates journey. I decided to start with an 8-pack membership to see how I liked it, and it wasn't long before I purchased the unlimited plan - just one month later!
In my 70s, I am proud to say I take an average of 6 classes per week!
What made me join Pilates in the first place?
In 2017, I pretty much lost the use of my left side.
I could hardly walk and could certainly not play golf, which was extremely difficult for me physically and mentally. I needed extensive neck surgery to help that ailment.
I did not know much about Pilates at all, but recovering from neck surgery changed that. After healing from the surgery, I needed some form of exercise that would allow me to rebuild my core strength and stability.
In just a couple of years, Pilates has saved me and has given me a quality of life that allows me to walk 3 miles a day, play 18 holes of golf (with a cart), and challenge my body to a daily Pilates class.
Pilates has given my body strength and stability, and I have no doubt that I hit more accurate shots because of Pilates. When I began golfing, my handicap was in the high 20's. Now I play to a 19 handicap.
I am constantly telling my golfing friends that Pilates saved my life and my golf game, and that Pilates would help them with their aches and pains the same way it did for me.
I love the staff at Club Pilates Wiregrass. They are EXCELLENT and so deeply knowledgeable. You can see their passion in the classes they teach. Without them, I would not have developed in my sport and life as well as I have. Mind you, I am still the "old lady" in some of the classes - but I like to think I can keep up with them on my level!
I am certain that I will love Pilates FOREVER!
Written by Pat Davis, Club Pilates Wiregrass member.