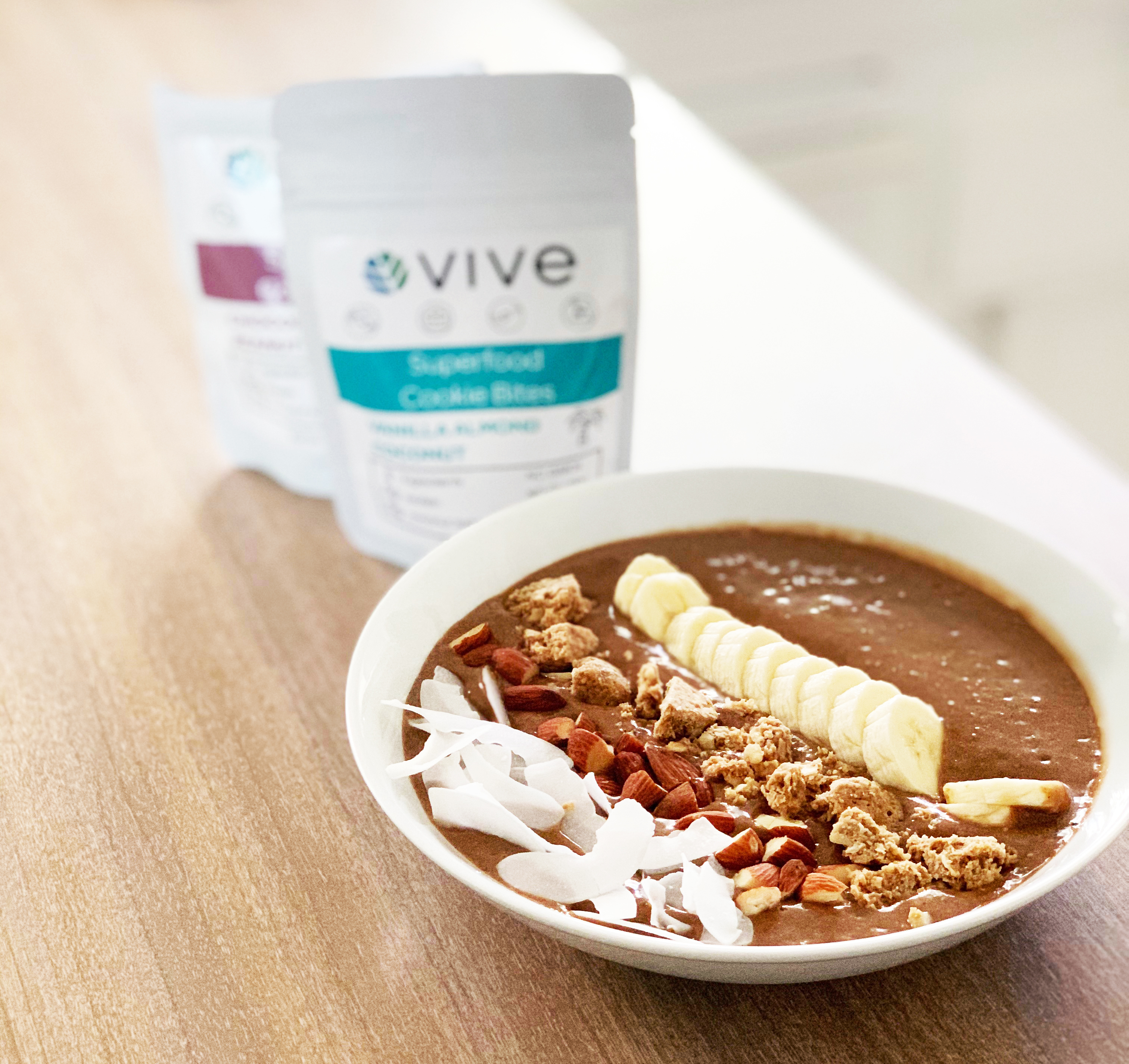 ---
Recipe by Jenna Morris
Confession: I have an unhealthy obsession with a healthy snack. My recent discovery of Vive snacks has overtaken my life and I'm finding every opportunity to keep them in my daily diet. I stash them in my purse for a quick nugget before or after a workout, when I'm driving in my car and need just a little something, or when I'm jonesing for a sweet morsel that also has some nutritional content. I love to dot my smoothie bowls with chopped up Vive snacks and fruit. I plan to adorn my overnight oats with them and am also dreaming up ways to use them in a stone fruit crisp. Juicy nectarines and plums decorated with their coconut and almond bites? Yes, please!
This week I'm reimagining one of my favorite coffee drinks from Beatrix in Chicago. It's a cold brew, banana and hemp iced coffee concoction that beats the steamiest of summer days. I'm taking it a step further with a few added ingredients so I can make it a smoothie base for these little gems to rest on top of.
This smoothie bowl has good fats, a healthy dose of fiber, enough protein to make it a meal, natural sweeteners, and some cold joe all living together under one roof. As you scan the ingredient list you may come to wonder how cold brew and avocado could possibly join forces. But avocado is a flavorless way to add thickness to your smoothies (along with potassium, fiber, and heart healthy fats), making it easier to pour your smoothies into a bowl and top them with more nutritious goodies like my obsession-worthy Vive snacks. Trust me, you want these little buggers floating on top and retaining their chewy texture; not getting lost at the bottom of your smoothie. My other toppings included salted almonds, unsweetened coconut and banana, but you could get decadent with some melted almond butter, toss some cacao nibs on top or sprinkle chia seeds into the mix.
Cheers!
Re-VIVE Chocolate Almond Coconut Smoothie Bowl
Serving size: 2 small bowls
Smoothie Base:
3 oz almond milk
3 oz cold brew
½ a frozen banana
½ an avocado
3 dates
1 Tbs almond butter
1 Tbs ground flaxseed
1 tsp cocoa powder
1 tsp vanilla extract
Couple ice cubes
Toppings:
4 Vive cookie bites (I went with the vanilla almond coconut)
Coconut flakes
Almonds
Banana
Recipe by Jenna Morris