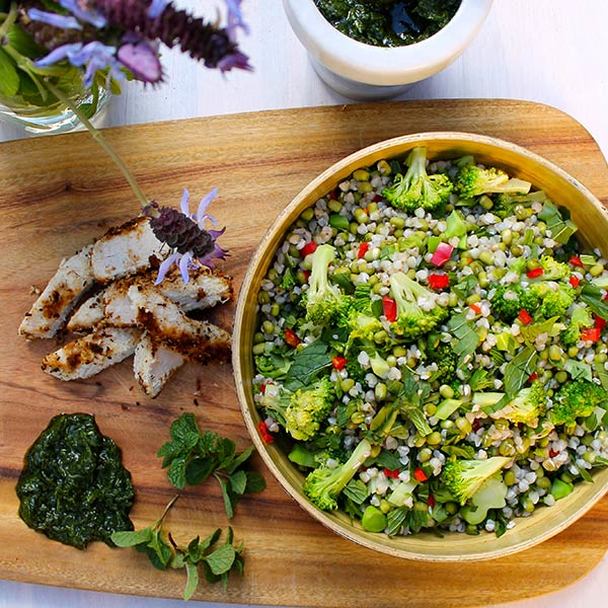 ---
A beautiful, fresh and nourishing meal to share with great company! Includes a green broccoli salad with sprouted mung beans and buckwheat, served with a lovely coriander pesto and coconut coated chicken. (Simply leave out the chicken in this meal if you are vegetarian/vegan).
Serves: 4
Time: Sprouting: 2-5 days. Prep: 45-60 minutes
Ingredients:
Sprouted Green Chili Salad:

½ cup organic hulled buckwheat, soaked overnight
½ cup organic mung beans, soaked overnight
1 head of broccoli, cut into florets
1 large fresh chilli, finely chopped
1 bunch fresh mint roughly chopped
Coconut Chicken:
2 free range chicken breasts
2 tbsp organic coconut flour
3 tbsp organic desiccated coconut
½ tin of organic coconut milk (200ml)
Organic coconut oil (for greasing pan)
Coriander Pesto:
2 cups coriander leaves
2 tbsp fresh lime juice
1 garlic clove
¼ cup organic olive oil
1 tbsp organic sesame oil
Optional: 1 tsp organic green superfood powder of choice (eg. spirulina, wheat grass, alfalfa, etc.)
Method:
Salad:
If you have time, sprout the mung beans - after soaking them, rinse thoroughly and pop into a jar covered with cheese cloth (not a lid). Leave in a dark spot for 2-5 days, rinsing once a day.
If you don't have time to sprout the mung beans, simply rinse them well and cover with plenty of water in a saucepan. Simmer for around 30 minutes until cooked.
Rinse the buckwheat very well to remove the gluggy coating. Add to a saucepan with 1 cup of water. Bring to the boil, then cover and simmer over a low heat for 10-15 minutes until tender.
Steam the broccoli florets and mix all the salad ingredients together in a bowl.
Coconut Chicken:
Cut the chicken breasts into small strips horizontally about 2cm thick.
Spread the coconut flour and desiccated coconut on separate plates, distributed evenly and the coconut milk in a shallow bowl.
Coat each piece of chicken in the coconut flour then dip in the milk and coat in the desiccated coconut to finish.
Grease a pan with oil and cook chicken strips in batches until golden brown.
Pesto:
Place the garlic, coriander and (optional) green powder in a food processor and mix until finely chopped. With the motor running, gradually add the lime, oils and water until well combined.
Serve all three components together and enjoy with company!
Enjoy!