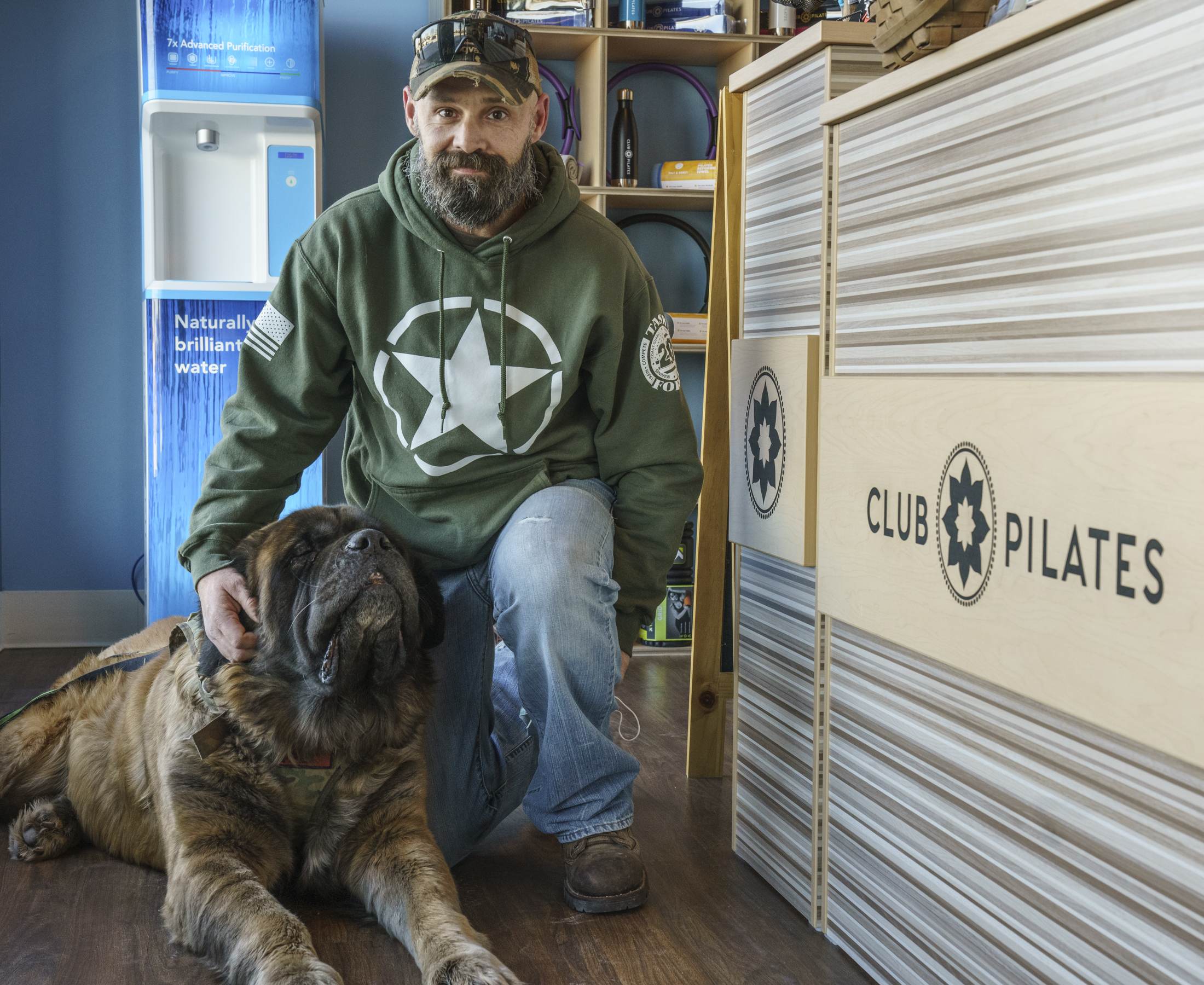 ---
Meet Daniel Camper, and his furry companion, Harvey.
Daniel and Harvey are a unique and special pair - they're both Club Pilates members and attendees. Daniel is a veteran who served the US in combat, and Harvey is a special trained service dog.
First, a little bit about Harvey.
"Our relationship started out rocky, as I was not accustomed to such a large dog," Camper shared. "Harvey being trained for seizure detection and warning was in itself an experiment. Never had such a breed been used for this, but they were looking at his ability to withstand a person falling on him without harming him."
In their first six months together, Camper and Harvey did not go anywhere that they could not walk.
Since their time together, Harvey has even helped Camper overcome issues from combat-related PTSD -- which he was never trained to do. "Incredibly, he has also helped others overcome a few of their own issues as well," Camper shared.
Enter, their experience at Club Pilates.
Camper was introduced to Pilates through Task Force 20, a non-profit veteran's organization whose mission is to assist veterans to gain support and positive connections through fitness. "As I have injuries stemming from active duty, I needed a workout that would help me build strength and mobility," said Camper.
"I just began this journey of Pilates a little over a month ago, and already I have noticed that some flexibility is starting to return, and pain has begun to dissipate," he shared.
"My favorite part about Club Pilates would have to be the community and support that we find here. The Perrysburg location supports the local Veteran population through Task Force 20, and everyone is so kind here. Harvey and I were invited in with open arms. We both feel very welcome here."
Harvey and Camper are fan favorites at the studio.
"Some feel that service dogs can be seen as a challenge in businesses for spacing, distractions to others, etc. BUT -- it is so important to remember that Pilates is for everybody and all people should be welcome here," said Christina, General Manager of Perrysburg .
"Without these dogs, many individuals wouldn't be able to enjoy all that life has to offer without the fear of physical injury due to medical conditions. Harvey is a lovable fluff ball that is all about his job and we leave him to it with no interruptions. Although he's aware of things happening in the studio, his attention is always on Daniel. It's such an honor to host him. Working with Veterans is so important to us at a Club level as they represent a demographic who can be best serviced through Pilates due to injuries sustained in service. TF20 has brought many of them to us and we appreciate all their help as we get to help those who truly need us."
Join Club Pilates in thanking Daniel for his service, as well as Harvey to his dedication. Club Pilates is grateful to have them as part of its family!